DANCE!90210 HOME PAGE

Welcome to the Advanced Dance Theater Group
of Beverly Hills High School

the COMPANY '97
Notes on a Program
Dear Visitor, while waiting for the pictures of the concert to load, we invite you to read about one of the best high school dance programs in the country. I'm Barry Weiss, webmaster, and the husband of Artistic Director Janet Roston, I have seen 15 years of company concerts. Each year has had its memorable moments, crises, laughs, etc. This year had more than its share! This is a veteran crew consisting of 6 seniors and a total of 17 out of the 22 members participated in Company '96.
This eye-grabbing poster/program cover has company members watching as Tiasha table-hops at local coffehouse Lulu's Alibi. The photo was taken by former company techie, now camera operator/cinematographer Ariel Benarroch; the cool graphics were done by Andrew Benson.
CONTENTS

Darrin Wright, grade 11, Joins The Lewitzky Dance Co. for Final Tour
"Company '97: A Realistic View" by Matthew Wong
Turning Tragedy into Comedy
"Making History in Dance Company"
A Poem by Liat & Joie Mazor
Company Roster
Choreographers
The Dances/Photos
Production Staff


Darrin Wright, grade 11, Joins The Lewitzky Dance Co. for Final Tour
In a scenario worthy of an old Hollywood musical, Darrin has joined this world class dance company for the last four months of its final tour. Walter Kennedy, our guest choreographer and Lewitzky dancer and rehearsal director, had been working with a dozen members of our company, including Darrin for several months on Rubble. The week of the Company '97 concert, one of the four male Lewitsky dancers abruptly quit. After bringing another Lewitzky dancer to the concert to evaluate Darrin's potential, the possiblity of his joining Lewitzky was explored with Darrin and his parents, Janet and principal Ben Bushman. This is a full time position and would entail his doing school work between rehearsals and on roadtrips.
The Monday after concert, Darrin accepted an invitation to take the Lewitzky company class. He met Bella, and, by the afternoon, was learning the choreography he will perform in the upcoming concerts. After tours of the midwest and northwest, the gala final performances will be held May 17-18 at the beautiful Luckman Theater, Cal. State Univ. L.A.
Darrin started tap lessons at 6 years of age; has been studying Modern and Jazz for the last 3 years. Janet describes him as a "natural."



Company '97: A Realistic View
by
Matthew Wong
The very premise of dancing in company is to experience a sense of unity, right? Common goals and intentions. A shared group mentality. Tightly packed bodies on the stage. These all epitomize what it is to be spiritually and physically connected; perhaps the essence of humanity lies within a dance company. The members in the Company '97 have participated in all of these uniting, humanitarian aspects of dance. However, this altruistic description can shade the bitter reality of our group situation. Truly, there must be more to our twenty-six member family than compelling movement and universal love. After all, we're high school teenagers with different lives, divergent personalities. There should be little doubt that Advanced Dance propels its members to a zenith of dance ecstasy. yet a realistic assessment of Company '97 in both its positive and negative light has been long overdue.
Throughout the year, the enjoyment and overall productivity of Advanced Dance was enhanced by the kinship of its members and their activities together. Unlike previous years of the Company, the dancers attempted to establish a policy of harmony and friendship, extra-curricular bonding sessions became as significant as in-school rehearsal. Tension seemingly melted away as the '97 clique traveled to outside classes, dance performances, and city cafes for weekend hangouts. The very idea of having twenty-five friends with similar interests proved immensely pleasing. The opportunity to create something beautiful with peers went hand in hand with the expectation to perform and operate as a professional dance company. Our annual concert was highly acclaimed both by audience response and individual evaluation. The Company '97 had served its purposes: Fulfilling the idealist definition of dance, mesmerizing audiences, and at least appearing civil to one another throughout the semester.
The fact that most of us were friends cannot be refuted. Unfortunately, there are sometimes exceptions. With the expectation to act in a professional manner, the obstacles and attitudes accompanying that manner were soon to follow. Long hours of rehearsal in addition to constant exposure to individual character flaws do not equate for eternal bliss. Concert preparation was often underscored with outright competition, conceit, and animosity. Barbarous disagreement (perhaps not apparent to the director) broke out over who deserved recognition for their talent, i.e. the casting of solos and pieces, who was placed in the front line, and who should be a full-fledged member, as opposed to an apprentice. These issues clouded over our strong friendships and sense of brotherhood, displaying the high school nature of our professional production.
What was the cause for all this "dissension in the ranks" and "inter-personal conflict" mumbo-jumbo? Some members speculate that because of a bigger company, competition during the casting of pieces was inevitable. Others just grew weary of individuals trying to push their way to the front or talking smack about other dancers. Another obstacle Company '97 faced was the arrival of new members. The newcomers, many of whom were freshmen, tended to be reserved and introverted, not readily open to assimilate with their upper grade peers. Regrettably, this conservatism sometimes led to the ridicule of those who legitimately auditioned and qualified for Advanced Dance.
For readers on the World Wide Web, this essay is a personal narrative about the Advanced Dance Theater Group. To clear up any lingering doubts, we do not have intentions to mutilate each other, or cause bodily harm to other dancers. Negativity has not proven itself insanely rampant in the Company. Yet, there is more to us than the cold hard facts: "We got twenty-six dancers. We dance good. And we have fun." It is important to understand that the company at Beverly is not Cinderella's magical ball with Prince Charming, nor is it an audition for New York City Ballet. We are constantly striving to find the happy medium.
Matthew Wong is a two year member of the Advanced Dance Theater Group at Beverly Hills High School.



Turning Tragedy into Comedy
Those of you who have performed in and/or directed a concert know that perfection is a goal rarely attained...there's always something that trips it up! As Artistic Director, Janet usually choreographs the finale. This year it was in four sections, the third served as a showcase for the talents of Joyce and Darrin. After an extended slouchy-jazzy solo in the spirit of Gene Kelly, Darrin is joined by Joyce for an exciting adagio featuring complicated lifts, drops, fancy wrap-arounds, etc. Joyce is a petite, fearless, hard-working 10th grader who is perfect for such a demanding routine. Janet brought in lifts expert Russell Adcock to work specifically on those sections.
Unfortunately, at some point in the duet, opening night, Joyce strained her back. By the next afternoon, it was clear that no amount of physical therapy would enable her to go on stage that night. Janet began to restage the nine other dances in which Joyce performed. But what to do with the duet section of the finale which had been prophetically titled "Solitaire"? It would be a shame to eliminate the solo showcase for Darrin, but there was no understudy for Joyce. And it was now 3 hours to curtain.
In an attempt to lighten the mood of the studio, a member of the company suggests replacing Joyce with a blow-up doll. It does produce great laughter and Janet adds to the mirth by saying that her costume would probably fit but couldn't imagine submitting a sales slip to BHHS from the Pleasure Chest. Another student said that they worked at Aahs, a greeting card/novelty store, where they sold "plain" inflatable dolls. In desperation, Janet dispatched two students to see if they could find one. They quickly returned with Darrin's new partner. The costume fit, but the head looked weird. By some strange reason there was a customized Cabbage Patch doll backstage; it's pink Mylar hair was transplanted onto the airhead...much better!
Janet rehearsed with Darrin for about thirty-five minutes; alternating between falling down laughing and saying, "This is incredibly sick!" She devised a clever way to get Dolly on and off stage several times, and Darrin would have to improvise during certain sections.
Before the opening curtain, Janet announced that due to injury, Joyce would not perform in the concert and that her place in the finale duet would be danced by a Special Guest. Many of the students in the audience had seen the "real" duet at an assembly performance the day before opening night. They went wild! (Having been at the assembly, let it be known that the Joyce/Darrin duet was truly brilliant; the bizarre Doll/Darrin version merely saved the day. B.W.) Other people in the audience were not sure if it was meant to be this way from the outset or it truly was a due-to-injury replacement. Either way, the daring risk paid off!
The good news is that Joyce's condition improved each day. She performed beautifully in some pieces on Friday and almost all of her dances on Saturday. We look forward to having Joyce dance with the Company for two more years!



Making History in Dance Company
by Liat & Joie Mazor
Did you know we've made history?
The first two siblings
Ever to be in Dance Company!
It is no mystery
How it came to be
That Joie joined with me
Both of us dancing ballet since age three!
A senior Company member was I
My sister - a freshman brand new.
Together we leaped to a level up high
And a professional video we made, too.
We spent time dancing, and together we bonded
"Principals of Choreography" the video we were part of
In "Royalty Shmoyalty" as princesses we portrayed
A humorous impression on our audience we made.
Nothing can compare
To the experience we both share
And my past four years in Dance Company
Although it is rare
We managed to make history there.
---
Now it's my turn to tell my story
My first year as a Company member has been fun, and don't worry
From costumes, to cleaning, to rehearsing too,
Dance Company has been so exciting
And the Company members so friendly and inviting!
Through thick and thin, Liat's been there for me
Sharing sore muscles and technique tips did we
Participate in rehearsals, prepared for the show
And how to perform did we both know
Supporting each other is what it's about.
I will miss my big sister next year, no doubt!

COMPANY '97
Joyce Azria grade 10...........................................Amy Miyamoto grade 10
Marcello Bellisario grade 11...........................Tiasha Palikovic grade 12
Sheila Chen grade 12.................................................Janet Porres grade 12
Micah Cohen grade 12.................................................Allen Roth grade 11
Cidney Dutton grade 11..........................................Orly Setareh grade 12
Carolina Gutierrez grade 9.....................Maggie Shamdasani grade 11
Alanna Hale grade 11........................................Elizabeth Sroka grade 10
Elina Lerman grade 9....................................Lauren Weissman grade 11
Sara Elisa Lesin grade 11..................................Matthew Wong grade 11
Benjamin Levy grade 11.....................................Darrin Wright grade 11
Joie Mazor grade 9......................................................Liat Mazor grade 12


CHOREOGRAPHERS
Guest Choreographer WALTER KENNEDY has been performing and teaching internationally with the Lewitzky Dance Company since 1978, and has also been the company rehearsal director since 1990. His choreography has been presented twice at the Los Angeles Dance Kaleidoscope festival, at Highways Performances Space, the Melrose series, the Mark Taper Forum, and the Kimo Theatre in Albuquerque. Most recently his work Fault Boundaries was honored as a Gala Performance choice for the 1995 regional American College Dance Festival in Salt Lake City. He is also a co-founder of WK/DV DUO, an ongoing collaborative choreographic project with London based choreographer Diane Vivona. Mr. Kennedy has recently completed his B.F.A. in Dance at California State University Long Beach, while serving as part-time faculty.
Alumni Choreographer DINA FRANKS, 20, danced with The Company for two years and was one of the founding members of the A.P.* Posse. In 1988 mentor Regina Williams recruited Dina into "The Brat Pack," a high energy, jazz-hip-hop group. Her choreography has been featured at The House of Blue and on "Name Your Adventure" on N.B.C. Dr. Dre, Tisha Campbell, and Jodeci are some of the names she has worked with as a choreographer or dancer. Dina is now working on a music career as a singer and songwriter.
(*Attitude Problem)
Solo Choreographers FRIT and FRAT FULLER are co-artistic directors of the all male KIN Dance Company. The company has performed at Highways Performance Space, Occidental College, and the Black Choreographers Moving showcase in San Diego. The brothers have choreographed shows for Universal Studios, the Miss Teen America Pageant, and Berlin on Broadway at the Strand Theater in Minnesota.

The Dances
(All photos by Barry Weiss except as noted)

---

New B.O.R.N.*
Choreography: Janet Roston
Dancers: The Company
*Big Opening Rock Number

---

Aphelion
Choreography: Sheila Chen

Sheila Chen

---

The Room Under the Stairs
Choreography by: Darrin Wright
Dancers: Cidney, Alanna, Sara, Tiasha, Maggie, Elizabeth, Darrin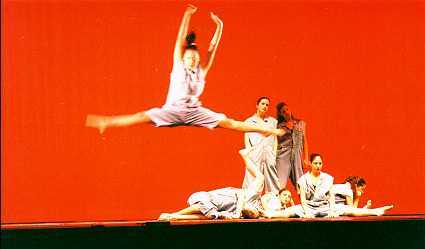 ---

C'mon
Choreography by: Dina Franks
Dancers: The A.P. Posse: Joyce, Sheila, Micah, Alanna, Janet, Allen, Maggie, Lauren, Darrin

---

Lost Worlds
SOLO 1: Choreographed & Danced by Liat Mazor
SOLO 2: Choreography by Frit & Frat Fuller -- Danced by Janet Porres
Costumes: Ben Mazor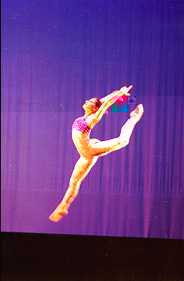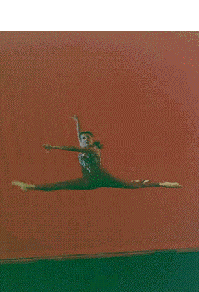 Liat Mazor ------------------------------ Janet Porres
Photo by Kerry Mazor
---

180°
Choreography: Janet Porres
Dancers: Joyce, Micah, Carolina, Elina, Joie, Liat, Tiasha, Janet, Orly, Matt

---

Rubble
Choreography: Walter Kennedy
Original Score: Erik Ruskin ............................ Costumes: BCBG
Dancers: Joyce, Sheila, Micah, Ben, Liat, Tiasha, Janet, Orly, Maggie, Elizabeth, Matt,
Darrin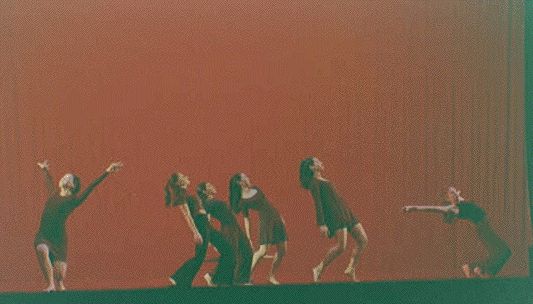 ---

What He Don't Know
Choreography: Dina Franks
Music Written & Performed by Dina Franks and the G.P. Funk Squad,
Tao Russell, Taurus Hamilton, Ali
Dancers: The A.P. Posse

---

Password: Don't Move
Choreography: Maggie Shamdasani
Rehearsal Director: Bridget McCarthy
Dancers: Alanna, Sara, Ben, Amy, Maggie, Lauren

---

Moonlit Isolation
Choreography: Alanna Hale
Music: Tape Collage compiled by Alanna Hale
Dancers: Sheila, Joyce, Marcello, Micah, Carolina, Alanna, Elina, Ben, Sara, Joie, Liat, Amy, Tiasha, Allen, Orly, Maggie, Matthew

---

And Now Four Something Completely Different
Choreography: Elizabeth Sroka & Darrin Wright
Dancers: Elizabeth, Darrin, Cidney, Lauren

---

Eh...Royalty Shmoyalty
(an absolutist aberration)
Choreography: Matthew Wong
Music: J.S. Bach -- Costumes: Lexi Nikitas
Dancers: King: Matt - Queen: Sheila - Jester: Micah
Princesses: Carolina, Joie, Liat
Deep within the cryptic castle, the princesses conceal a jovial friend. The king knows not of this odd intruder and the jester, in turn, know nothing of the king's vehement temper...


Carolina, Joie, Micah, Liat
---

Matthew, Sheila, Micah
Carolina, Joie, Liat

---

Sis's Silly Songs
Choreography: Janet Roston
I. Sofa: Dancers: Joyce, Sheila, Elina, Liat, Tiasha, Janet P., Maggie
II. Southpaw: Dancers: The men of the company - Special Guest: Daniel Bolvarte
III. Solitaire: Dancers: Joyce, Darrin - Special Guest
IV. Skate: Dancers: The Company - Special Guests: Amanda Gabai, Sarah Koplin, Maya Melczer, Daniel Bolvarte

Sofa
---
Southpaw
---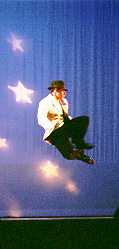 Darrin

---

Joyce & Darrin

---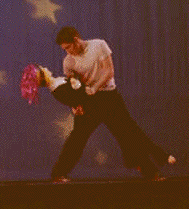 Darrin & Special Guest
in
Solitaire
---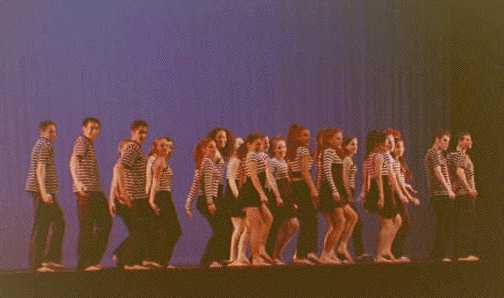 Skate

Production Staff
ARTISTIC DIRECTOR...........................................................................JANET ROSTON
ASSISTANT ARTISTIC DIRECTORS.................................................MADELEINE DAHM / BRIDGET M. McCARTHY
COMPANY MANAGER..........................................................................JESSICA NEEDLEMAN
COSTUME MANAGER..........................................................................CYAN SATTIN
PUBLICITY MANAGER........................................................................JACKIE REMESNITSKY
PRODUCTION MANAGER.................................................................. ERIN ESKOVITZ
COSTUME DIRECTORS.......................................................................LEXI NIKITAS / JANET ROSTON
COSTUME CONSTRUCTION..............................................................LEXI NIKITAS
TECHNICAL DIRECTOR.....................................................................ANDREW D'AMBROSIO
STAGE MANAGER................................................................................RICHARD TSAI
ASSISTANT STAGE MANAGER........................................................NISSAN MOSAPOR
LIGHTING DIRECTOR.........................................................................ELHAM AGHABALA
FIRST ASSISTANT LIGHT CREW.....................................................SCOTT ROSE / MELODY AUSHENKER
...................................................................................................................MELISSA THOMAS / BLAKE ROSENTHAL
SHIFT DIRECTOR.................................................................................ALEX SHEKARCHIAN
FIRST ASSISTANT CREW MEMBERS.............................................ROYA SADEHIAN / JOSH DANESHGAR
SOUND DIRECTOR..............................................................................MAYA AIZENMAN
FIRST ASSISTANT CREW MEMBERS.............................................GABE HOLLOMBE / PHILLIP WAGNER / VALEN SAVARTSMAN
FLY MASTER CREW............................................................................KATE LEWIS / AARON TESFAI
PARENT COMMITTEE CHAIRPERSON..........................................DIANA WRIGHT
AUDIO-VISUAL DIRECTOR...............................................................DAVE STILES
SPECIAL TAPE EDITING.....................................................................ROY CAMPANELLA III


Janet Roston/Barry Weiss