DANCE!
90210

T h e C o m p a n y '96


What do you get when you combine Beverly Hills High School, the twenty best dancers in its student body, and a semester of hard work? The Company '96! Welcome to our web page; my name is Sheila Chen, I am a junior at BHHS and a third-year member of The Company, which is the Advanced Dance Theater Group. Our new page contains info about our program, Images from the Concert, and a fun Fact or Fiction Pop Quiz .

We are a collection of diverse talent. The Company attracts dancers who specialize in ballet and hip-hop, to tap and even ballroom. Our main project is a full-length concert performed over four nights in January. (We also take part in the spring musical theater production; this year it was "Guys and Dolls") Most pieces performed are student-choreographed, though alumni and professional choreographers are also invited to create dances. The concert is always a medley of different styles of dance. We are financially self-sufficient. The Company trains young dancers who continue to excel in the dance world.

It all starts in September...
Company members submit ideas for original choreography and preliminary casting is made for the audition process. Each choreographer is alloted three hours of rehearsal time within one week to create a dance. The selection of which dances will be performed in concert is made by Artistic Director Janet Roston and her
assistants based on artistic integrity, choreographic concepts, variety, etc. Then, final casting is made for these and for the guest & alumni choreographer's pieces.

Moving into October, November, & December...
The Company meets daily 2 to 5 for rehearsals. Weekends can range from 2 to 8 hours a day.The last day before Christmas break looms large over choreographers' heads because that is when all dances must be finished. Meanwhile, the production staff is busy constructing sets & props, gathering costumes, etc. Many vacations are cut short, as the second week of our break is "cleaning" week; Janet and her assistants fine tune our work.

January begins with Lighting weekend...
Lighting is perhaps the most grueling and torturous time of Company. It is a severe test of a dancer's patience to stay in place, while the tech crew and directors slowly create the various dramatic effects to enhance our dances. Standing around is more energy consuming than dancing!
...and continues with assemblies. In one day The Company tours the four elementary schools in the BHSD; Beverly Vista, El Rodeo, Horace Mann, and Hawthorne. We showcase several pieces from the concert and inform incoming freshmen of their senior high dance opportunities. On another day, our most important pre-concert performances are given at assemblies at the high school. In two groups the whole student body gets a preview of the concert, hopefully enticing students to buy tickets ($6 Students, $8 Adults) to see the real thing.

Performances...
The highlight of The Company and the fruit of a semester's work. These four nights came too soon and passed by too fast.

This year The Company included dynamic guest choreographer Francisco Martinez who created ballet based choreography to music by Schumann. Artistic Director Janet Roston, returned this year with a piece titled Deux Voyages.The first segment cleverly juxtaposes classic hip-hop with Irish folk dance; the second, uses a plaintive Latin song and an upbeat Salsa track to express the vicissitudes of life. Alumni choreographer Jennifer Jessum was flown in from Denver, Colorado to work with the talented company. She created a complex and physically demanding dance to an industrial music track by Brian Eno and David Bryne. Student choreographers included Amanda Gamer, Shiry Soffer, Shiela Chen, Alanna Hale, Janet Porres, Darrin Wright, and Matt Wong.


Images from the Concert
La Vida es Dulce - Choreography: J. Roston / Music: Selena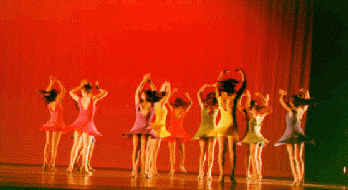 Sheila Chen in La Vida es Dura - Choreography: J. Roston
Music: Susana Baca

Sheila Chen & Micah Cohen in La Vida es Dulce

Fact or Fiction Pop Quiz
Every member of The Company takes private lessons from the best dance teachers in L.A.
A professional guest choreographer is brought in each year.
Our personal trainers are available 24 hours a day for emergencies.
A professional photographer shoots at the concert.
Company members also model, sing, act, and do movies on the side.
Pilates classes at $100/hour are required three times a week.
A week-long audition consisting of ballet, modern, jazz, and choreography sections is how one applies to join The Company.
The Company masseuse also serves Madonna, Brad Pitt, and the Baldwins.
Make-up artist Kevin Aucoin works our concert.
Our costumes include pieces from Calvin Klein, B.C.B.G., and Laundry
Answers below Rainbow Line


Fact: 2,4,5,7,10 Fiction: 1,3,6,8,9,



Janet Roston

"Musical Employs Many Dancers" by Erin English
Glittery Broadway nights, sultry singers, tough guy gamblers...These are the ingredients of "Guys and Dolls," Beverly's spring musical. But perhaps one of the more unique elements is the dancing performed by the members of the Advanced Dance Theater Group, The Company.

Choreographed by Company director, Janet Roston, the dances encompass the spirit of the 1940s night life. The girls dance as showgirls in a club called the Hotbox, and the boys are gamblers.

"The dances for the boys have a tough feel," Roston said. "There are a lot of jumps and turns, a lot of masculine movement. The dances have more physicality."

Seniors Brian Pocrass and Amanda Gamer (Miss Adelaide), juniors Sheila Chen, Micah Cohen, Janet Porres, and Orly Setareh, and sophomores Maggie Shamdasani, Darrin Wright, Ben Levy, Matthew Wong, Alanna Hale, Cidney Dutton, and Allen Roth dance to such songs as "Take Back Your Mink" and "Crapshooter's Ballet."

With practices as long as three to five hours a day, four to five days a week, the members of the Company prepare for the show, as they adjust to the unfamiliarity of participating in a musical.

"The experience of doing a musical is much different from doing the company concert," Porres said. "Not only do you have to dance, but you also have to sing and act."

Said Roston, of choreographing a musical, "Whenever you choreograph a musical, there's a certain preconception of what the audience expects to see. I want to make them happy and yet, at the same time, choreograph original dance numbers. I want the audience to feel as if they've seen dancing in the spirit of 'Guys and Dolls.'"

As they perfect their routines, the Company members relish the experience. "The best part is working as a team and seeing the final product when we perform in front of an audience," Gamer said.



Janet Roston