DANCE! 90210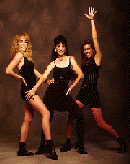 JANET'S CAREER BIO

Janet Roston is a successful Hollywood choreographer with credits in a variety of media. She received her Masters of Arts in Dance (hence the name M.A.D. Degrees Productions, her creative entity) from U.C.L.A., where she specialized in Kinesiology and Dance Education. She is the Artistic Director of the Advanced Dance Theater Group of Beverly Hills High School, considered one of the top programs in the US.
Janet has created Dancin' Habit an award winning series of instructional dance videos; "Principles of Choreography" has won medals at the New York Film Festival, Houston Worldfest Film Festival, and Columbus Film Festival. Her Hip-Hop Kidz video has been featured on CNN's Showbiz Today and has garnered excellent reviews from Billboard, Healthy Kids, and other magazines.
Janet's recent choreography includes two commercials for special effects company Rhythm and Hues. She created choreography for the Touchstone Disney film "The Last Shot" starring Matthew Broderick and "How Does It Feel" starring Blair Underwood. She has been staff choreographer on numerous television shows creating sequences for "Ned and Stacey," "Ask Harriet," "A League of Their Own," and "George," with actors Scott Bakula, Thomas Hayden Church, and Peter Coyote. As a director-choreographer Janet has created large-scale production numbers featuring dancers and singers for Sunkist, Polaroid, AVCO Finance, and Stouffers Hotels.
Choreographic sequences Janet has created are key elements to the success of many recent Disney promo campaigns. She provided dance and movement for three campaigns of Disney's One Saturday Morning line-up on ABC, as well as numerous promos for The Disney Channel and Toon Disney. Other commercials include multiple spots for Mattel's Barbie, Lucky Supermarkets, Knott's Berry Farm, and American Express. Among her film credits is "Teen Wolf" with Michael J. Fox.
Janet staged the national tour for RCA Nashville Recording Artists, Lonestar, working closely with lead singer Richie McDonald. Her stage choreography includes the 20-year revival of "Hair" at the Heliotrope Theater; "Tracers" at the Odyssey Theater, the hit musical "Nite-Club Confidential" at the Tiffany Theater which won the L.A. Weekly Award for Best Production; and "Partners" starring Hinton Battle.
Janet choreographed "Avenue X' at the Odyssey Theater for which she won a Drama-Logue Award for Outstanding Choreography. Back Stage West wrote that "Janet Roston's clever choreography adds flair to this enthralling production". "Viscerally entertaining and musically inventive, Avenue X is a feast for the ears...Musical staging by Janet Roston is excellent". Drama-Logue
She also choreographed the Equity production of "A...My Name is Alice" at the acclaimed Long Beach International City Theater. "Choreographer Janet Roston builds on the strengths of each of her cast members giving the show a wonderful look." The Press-Telegraph
As a teacher Janet has instructed at the state funded high school arts program, California State Summer School for the Arts (CSSSA) held at California Insitute of the Arts, Valencia. Janet developed and instructed the popular U.C.L.A. Extension course "Getting Work as a Professional Dancer in Hollywood" and has toured with Artists-in-the-Schools. She has taught many classes for the Professional Dance Network convention held in Palm Springs, CA and at Cal State Univ. Long Beach. She has also conducted dance workshops at CAHPERD's (California Association of Health, Physical Education, Recreation, and Dance) annual convention in Sacramento, Monterey, and Los Angeles.
Janet has developed relationships with several arts conservatories in London; guest teaching at the highly regarded Millennium 2000, London Studio Centre and Arts Educational as well as giving dance workshops throughout England.
Janet is available internationally for choreographic commissions and to teach master classes at studios/schools, workshops, and conventions.

Janet is represented by

Victoria Morris
Tel: 818-769-9111

Kazarian/Spencer & Associates
11969 Ventura Blvd. 3rd Floor
Studio City, CA 91604


janet@dance90210.com