Welcome to the Advanced Dance Theater Group


The COMPANY 2001

The homeless have finally found a home. Due to the renovation at Beverly Hills High School, the Advanced Dance Theater Group, the Company 2001 has found its home at the Robert Frost Auditorium of Culver City High School. They will perform their annual concert on January 10, 11, 12, and 13 at 7:30 p.m. This amazing group of dancers, "The Company," is one of the top high school dance groups in the country. The Company has produced many dancers that have gone on to dance in television, films, and music videos, as well as professional dance companies such as Winifred Harris, Naomi Goldberg, Bella Lewitzky, and ISO. This year's performance can be described as an eclectic mix of choreography ranging from traditional West-African to tap, from hip-hop to ballet.

Following the tradition of including alumni choreographers, Rachael Robbins has returned to choreograph a piece that features the excitement of a dance club, incorporating techno music and contemporary dance movement.

Artistic Director Janet Roston has drawn on her Nashville experience to choreograph a wry cowboy-inspired piece using the men of the senior class. "We have a fantastic group of senior boys and I wanted to create something special for them."

This year's guest choreographer is London-based Ben Wright. Ben portrayed the prince in Matthew Bourne's landmark production of "Swan Lake" at the Ahmanson Theater in Los Angeles and on Broadway.

Students are very involved as choreographers for the concert. Senior Adam Scher, a member of The Company since his freshman year, has choreographed a piece that shows three different perspectives and interpretations of love. Newcomer to The Company, student Schuyler Sorosky, has jumped right in to the excitement of creating choreography. Her piece utilizes a mix of tap and pedestrian movement that will captivate audiences. Other student choreographers are Aaron Harvey, Laura Karlin, Oren Kashanian, and Mike Wells.





CONTENTS


Company 2001 Roster
Roberta Berredo Grade 11
Joshua Farahnik Grade 12
Aaron Harvey Grade 11
Cherie Hwang Grade 12
Kathryn Ivanova Grade 9
Laura Karlin Grade 12
Oren Kashanian Grade 12
Michelle Kaye Grade 11
Carter Klein Grade 12
Masha Krakovskava Grade 11
Shelby Kraushaar Grade 11
Maddy Lasry Grade 11
Jesse Macht Grade 12
Noah Pivko Grade 12
Galit Prince Grade 11
Alessandra Rizzotti Grade 10
Adam Scher Grade 12
Schuyler Sorosky Grade 11
Gabriella Vallone Grade 10
Michael Wells Grade 12
Apprentices
Ryan Cooper Grade 11
Ryan Weiss Grade 10
(Click on the Company Photos for Full Size Images)
The Company 2001
Back Row: Rachael Robbins, Janet Roston, Debi White.
Third Row: Alessandra Rizzotti, Schuyler Sorosky, Aaron Harvey, Michelle Kaye, Masha Krakovska, Ryan Weiss, Kathryn Ovanova, Gabriella Vallone.
Second Row: Roberta Borredo, Cherie Hwang, Carter Klein, Shelby Kraushaar, Galit Prince, Lindsay Tucker, Maddy Lasry, Michelle Monsef, Ryan Cooper.
Front Row: Adam Scher, Michael Wells, Oren Kashanian, Jesse Macht, Laura Karlin, Noah Pivko, Joshua Farahnik, Sabrina Steel, Sheera Frenkel




The Company 2001 Seniors
Standing: Jesse Macht, Michael Wells, Cherie Hwang, Adam Scher, Carter Klein, Noah Pivko, Sheera Frenkel.
Seated: Sabrina Steel, Oren Kashanian, Laura Karlin, Joshua Farahnike.

The PROGRAM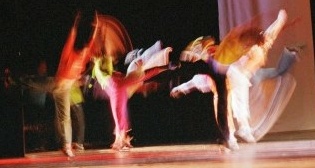 after hours
Choreography: RACHAEL ROBBINS
Music: DJ, MATHHEW MAKIN
Dancers: THE COMPANY 2001
---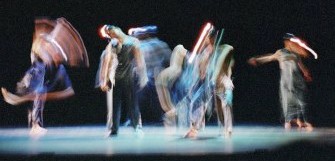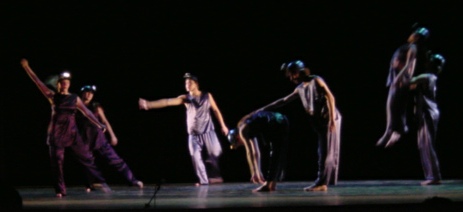 deep blue
Choreography: JANET PORRES AND JEN PARRA
Reconstructed and Revised: JANET PORRES
Music: BRIAN ENO, NEIL BRANES AND PAUL DALEY, ERIC RUSKIN, LEE DAVID AND BILLY ROSE
Dancers: CHERIE HWANG JESSE MACHT LAURA KARLIN ADAM SCHER OREN KASHANIAN SCHUYLER SOROSKY SHELBY KRAUSHAAR
---
breathe and stop
Choreography: AARON HARVEY
Costumes: AARON HARVEY
Music: Q-TIP
Dancers: The AP Posse 2001: ROBERTA BERREDO MADDY LASRY AARON HARVEY JESSE MACHT OREN KASHANIAN GALIT PRINCE SHELBY KRAUSHAAR ADAM SCHER
---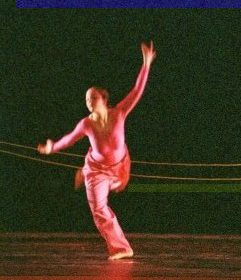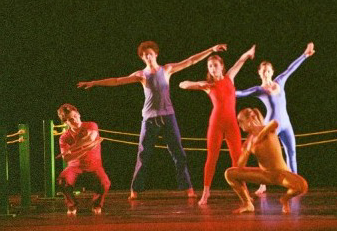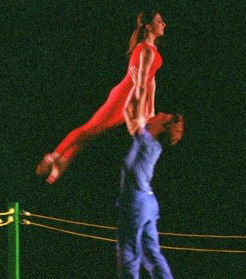 offstage
Choreography: LAURA KARLIN
Music: WOLFGANG AMADEUS MOZART, mixed collage by LAURA KARLIN and DAVID KARAGIANIS
Dancers: ROBERTA BERREDO RYAN COOPER JOSHUA FARAHNIK AARON HARVEY KATHRYN IVANOVA LAURA KARLIN MICHELLE KAYE MASHA KRAKOVSKAYA MADDY LASRY JESSE MACHT NOAH PIVKO GALIT PRINCE ALWSSANDRA RIZZOTI ADAM SCHER SCHUYLER SOROSKY

Thanks to my dancers for their contributions and to all those who wait in the wings for their cues.
---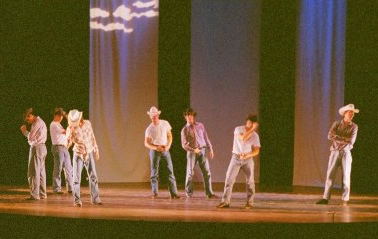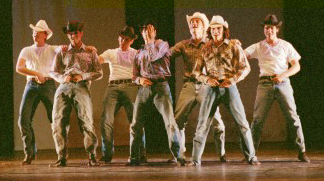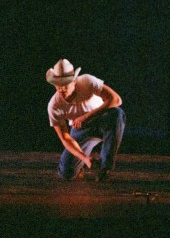 lyle made me do it
Choreography: JANET ROSTON
Music: LYLE LOVETT
Dancers: Quartet: JOSHUA FARAHNIK ADAM SCHER OREN KASHANIAN MIKE WELLS
Solo: JESSE MACHT
Septet: 5 dancers above and NOAH PIVKO, RYAN COOPER
For the Senior Boys: As you ride down the winding road of life may all your sunsets be glorious.
---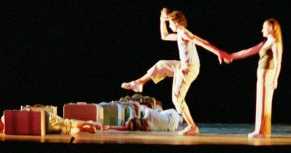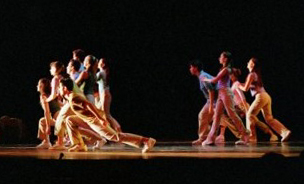 behovely*
Choreography: BEN WRIGHT in collaboration with the dancers of The Company 2001
Music: MAURICE RAVEL
Dancers: THE COMPANY 2001
* Old English: Inevitable
Choreographerís note: I came to Beverly faced with an exciting challenge: a limited amount of time to create this new work, and the largest amount of dancers I have ever used in one piece. I consider this dance to be an ensemble work about heading together in one direction, sometimes with certainty and at other times with query. Behovely is in some ways a work in progress, the result of only eight days work. It strives to highlight differences between performers as they appear on stage. I would sincerely like to thank Janet Roston for inviting me to create a work for this inspirational company.
---
(Intermission)
---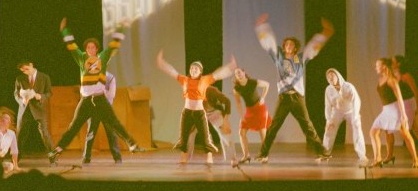 sidewalk sound bite
Choreography: SCHUYLER SOROSKY
Music: HERBIE HANCOCK
Dancers: ROBERTA BERREDO JOSHUA FARAHNIK AARON HARVEY OREN KASHANIAN CARTER KLEIN MASHA KRAKOVSKAYA JESSE MACHT NOAH PIVKO GALIT PRINCE ADAM SCHER SCHUYLER SOROSKY MIKE WELLS
---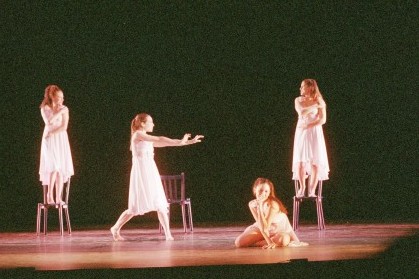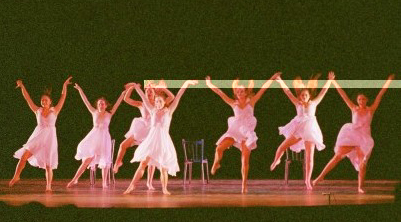 love is nothing but a four letter word
Choreography: ADAM SCHER
Costumes: NIRIT LECHTMAN
Section 1: THEM Section 2: SEARCHING Section 3: WOUNDED
Music: BJÖRK Music: LUDWIG VAN BEETHOVEN Music: BEN HARPER
Dancers: ROBERTA BERREDO SHELBY KRAUSHAAR JOSH FARAHNIK MADDY LASRY CHERIE HWANG JESSE MACHT KATHRYN IVANOVA ALESSANDRA RIZZOTI ADAM SCHER
---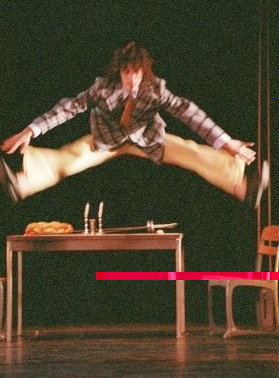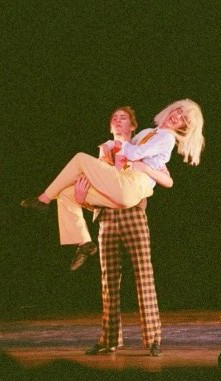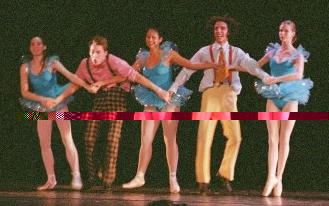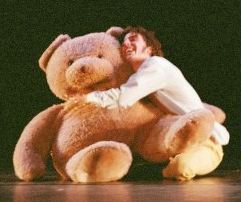 amen to frigidaire
Choreography: OREN KASHANIAN AND MIKE WELLS
Music: THE MOSS HOGAN CHOIR, QUEEN, JERRY BOCK and SHELDON HARNICK,
HELMUT LOTTI, MARVIN GAYE, WALTER MURPHY and LUDWIG VAN BEETHOVEN
Dancers: OREN KASHANIAN
---


now what!
Choreography: BRADFORD ROBINSON-MATTHEWS AND DEBI WHITE
Music: HELTAH SKELTAH
Dancers: THE AP POSSE 2001 including CHERIE HWANG, RYAN COOPER
---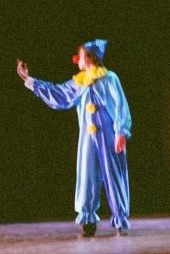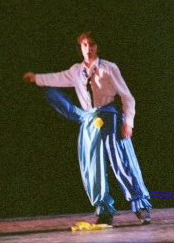 one day at a time
Choreography: OREN KASHANIAN
Music: STEPHEN SONDHEIM
Dancer: OREN KASHANIAN
Dedicated to all parents and all those who truly love me.
---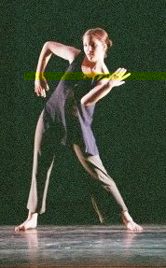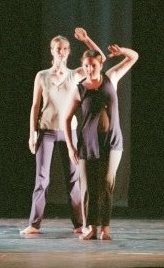 i wrote it down somewhere
Whoeverís in charge up there had better take the elevator down and put more than change in our cup or else we are coming up.
Choreography: LAURA KARLIN
Music: ANI DIFRANCO
Dancers: LAURA KARLIN GABRIELLA VALLONE
---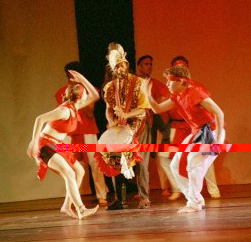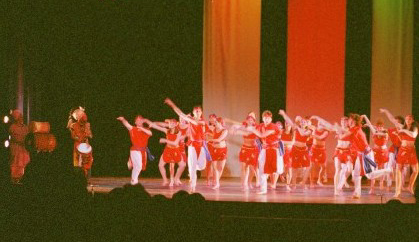 manjiani
Choreography: NZINGHA CAMARA
Costumes: NZINGHA CAMARA, NIRIT LECHTMAN
Lead Drummer: JAHMAIEL SHABAKA
Dundun Drummer: SIS RENE FISHER
Dancers: THE COMPANY 2001

Choreographerís Note: Manjiani is one of the most popular and spirited dances of West Africa. It originated in the Ancient Old Mali Empire. Its folklore is expressed through the Barbar ethnic groups that settled in Senegal, Guinea, Gambia and the Ivory Coast. Manjianiis a ceremonial dance performed after initiation (rites of passage). The young people have returned to their families and friends with exuberance and joy, anxious to begin their next phase of life, becoming an adult.


---
Guest Choreographer
London-based Ben Wright began dancing at 19 years old, training at the Ballet Rambert School. He joined London Contemporary Dance Theater where he worked with Mark Morris, Nir Bengal and Anjelin Prejlocaj. In 1995 Ben created the role of the Prince in Matthew Bourneís ground breaking production of Swan Lake for Adventures in Motion Pictures. He performed the role throughout the UK, in Londonís West End, in Los Angeles at the Ahmanson Theatre, and on Broadway. Ben was also seen in AMPís production of Cinderellain Los Angeles and the West End. In 1997 he performed for Her Majesty the Queen at the Royal Variety Performance.He presently works for Londonís Ricochet Dance Company. As a choreographer he has created work for the London Contemporary Dance School, the Richard Alston dance Company, 4d, Dame Allenís Newcastle Performance Group, and England's premier boys Youth Group Positive Action.
Guest Choreographer
Nzingha Camara trained with Les Ballet Africans National Dance Company in Guinea, West Africa. She is the Artistic Director and Principal Dancer with her company, Le Ballet de Kouman Kele West African Dance Ensemble. She was selected as a Master Artist by the City of Los Angeles Cultural Affairs Department and currently teaches West African Dance at UCLA and Santa Monica College. Her motion picture credits include King Kong, Roots II, The Color Purple and Poetic Justice. Among her television credits are The American Music Awards, Motown 30, and A Different World.Her work has been seen in Grand Performance for Mr. Nelson Mandelaat the LA Coliseum and Dionne Warwickís Annual AIDS Benefitat the Universal Amphitheater and with Jazz Antiqua Music and Dance Ensemble.
Alumni Choreographer
Janet Porres is completing her BFA in dance at California State University Long Beach. At CSULB she worked with choreographers such as Winifred Harris, Walter Kennedy, Jeff Slayton, and Keith Johnson. She performed as a featured dancer in The Envelopechoreographed by David Parsons. Janet she received the Gloria Newman Memorial Scholarship in Dance for the past two years. Her choreography has been selected several times to be a part of the Contemporary Concert at CSULB. Janet was a member of The Company for four years from 1994 to 1997. Her senior year she received the Outstanding Senior Dance Award.
Artistic Director
Janet Roston has worked as a choreographer in a wide variety of media including numerous commercials (many for Disney and Barbie); corporate shows, (Sunkist, Polaroid); and television (Ned and Stacey,A League of Their Own). Theater choreography includes Avenue Xat the Odyssey Theater for which she received a Drama-Logue Award; A... My Name is Aliceand Bed and Sofaat the Long Beach Center Theater; and Nite-club Confidentialat the Tiffany Theater which won the LA Weekly Award for Outstanding Musical Production. Her work can currently be seen in the 20th Anniversary production of Tracers at the Odyssey Theater. Janet produced and directed the instructional video Principles of Choreographywhich won medals at the Houston, Columbus, and New York Film Festivals.
This yearís choreography, Lyle Made Me Do It, for the Company 2001 is inspired by her work staging Nashville recording artists Lonestar. It joins the repertory of Kin Dance Company and will be presented at the California Plaza this summer. She has directed the The Advanced Dance Theater Group for 20 years.
Assistant Artistic Director
Rachael Robbins received her BFA in dance from California State University Long Beach, where she performed in works by Martha Grahm, Lar Lubavitch, Janet Eilber, Jeff Slayton and Keith Johnson. In 1996 she received the Fine Art Affiliate Scholarship for her solo Enfold Me In Your Wings. She is currently a member of Naomi Goldbergís Los Angeles Modern Dance and Ballet and of the Keshet Chaim Dance Ensemble with whom her choreography was performed in Moscow. She also works professionally as a lighting designer and stage manager. Rachael was a member of The Company from 1991 to 1993, has returned as Assistant Artistic for four years and has twice been Alumni Choreographer.
Assistant Artistic Director
Debi White is currently a senior majoring in dance in the World Arts and Cultures Department at UCLA. She recently attended the 8th Festival of Pacific Arts in New Caledonia where she shot a documentary of the event for UCLA archives. She performed in Jazz Dance LA in 1996 and 1997 and last year danced for the UCLA presentation of Nzingha Camaraís MA GBA GBE (Donít Forget). Debi was a scholarship dancer at Dupree Dance Academy and is currently on full scholarship at Debbie Reynolds Dance Center. For the past two years Debi along with Bradford Robinson-Matthews have created choreography for The Companyís AP Posse.
Special Thanks to:
The Advanced Dance Parent Committee, BCBG, Fiona Karlin, Christine King, Harry Kraushaar, Pam Kraushaar, Jennifer Logan, Nirit Lechtman, Cal State University Long Beach Dance Department, Rosie Monsef, Culver City Unified School District, Culver City High School Performing Arts Department.

---
Production Staff
Artistic Director -- Janet Roston
Assistant Artistic Director -- Rachael Robbins
Assistant Artistic Director -- Debi White
Company Managers -- Lindsay Tucker, Sabrina Steel
Publicity Managers -- Sheera Frenkel, Michelle Monsef
Costume Design -- Nirit Lechtman
Lighting Design -- Rachael Robbins
Technical Director -- Annie Terry
Assistant Stage Managers -- Manuel Artadi, Karen Swan
Lighting Director -- Josh Greenspoon
Lighting Crew -- Max Baines, Matt Madrzyk, Michael Udem, Michael Wagner
Sound Co-Directors -- Evan Barquist, Arnold Lesin
Set Shift Crew -- Jaclyn Shanfeld, Jamin Pursell
Parent Committee Chair -- Pam Kraushaar
Poster and Program Cover Photo -- Helene Steel
Poster and Program Design -- Jennifer Logan
Advertising Director -- Christine King of The Marketing Group
Concert Program Coordinator -- Fiona Karlin
Audio-Visual Director -- Dave Stiles
Beverly Hills High School Administration
Mr. Ben Bushman, Principal
Mr. Richard Munitz, Assistant Principal
Ms. Gayla Rabin, Assistant Principal
Mr. Dan Stepenosky, Assistant Principal
District Administration
Dr. Gwen Gross, Superintendent
Mr. Clayton Chaput, Deputy Superintendent
Ms. Diane Dawson, Assistant Superintendent
Board of Education
Ms. Alissa Roston, President
Ms. Virginia Maas, Vice-President
Dr. William Brien, Board Member
Mr. Barry Brucker. Board Member
Mr. Gerald Lunn, Board Member
David Foldvary, Student Representative


Janet Roston/Barry Weiss
Dance!90210.com