Welcome to the Advanced Dance Theater Group


The COMPANY 2000


Welcome to Beverly Hills High School's renowned Advanced Dance Theater Group, "The Company 2000."

This strikingly beautiful and evocative poster/program cover features Elina Lerman and Alex Molayem. The great photos were done by Helene Steel. The gorgeous graphics were designed by company alumna Jennifer Logan.

The Company is among the most respected high school dance groups in the country. Former members of have gone on to dance in films, television, and music videos, as well as with such companies as Bella Lewitzky, Winifred Harris, Naomi Goldberg, and other major dance groups.

Gazing cautiously into the future, alumni Rachael Robbins choreographed "control.alt.delete" which explores the ramifications of people depending on computers to communicate. Robbins explains, "Computers are everywhere. I do not see them as a negative influence, I am just worried about their repercussions."

The Company also displayed futuristic technology in action with "Symbiotic" choreographed by junior Laura Karlin that included live techno music by Steve Mollit.

Respected pros Frit and Frat Fuller revisited the Company to choreograph a lively, fast-paced military-inspired piece exploring free expression vs. conformity.

Janet Roston , Artistic Director, produced two pieces with the full cast. The first, an Irish-inspired dance laden with twists and turns; the second is a sizzling Mambo extravaganza set in 1950's Havana. Making this dance, and the group, so remarkable is the impressive number of men. Roston says, "Beverly Hills High School has a unique tradition of men in concert. Many of these dancers have gone on to perform professionally."

Along with the guest and alumni choreographers the concert featured a wide variety of student dances. The choreographers included Elizabeth Drumea, Cherie Hwang, Oren Kashanian, Elina Lerman, Joie Mazor, Maya Melczer, Adam Sher, Warren Sroka, and Mike Wells.

The concert was held on campus in the K.L. Peters Auditorium, January 12, 13, 14, and 15.

CONTENTS

Company Portraits by ALICE KUO
The DANCES
Photographed
by
Kerry Mazor & Barry Weiss
(Please click on the thumbnails for full-size photos)

B.Weiss
GO IT ALONE
Choreography: Janet Roston
Music: The Chieftains with The Corrs
Costumes: Nirit Lechtman Lifts Consultant: Don Mirault
Dancers: The Company 2000
Soloist: Joie Mazor
Girlfriends:
Laura Karlin
Sarah Koplin
Carolina Gutierrez
Cherie Hwang
---
TO ILLUMINATE THE ILLUSION IS TO OBSCURE THE REALITY
Choreography: Maya Melczer
Music: Terry Riley
Dancers:
Carolina Gutierrez
Carter Klein
Cherie Hwang
Maya Melczer
---
INNATE CONFLICT
Choreographers: Cherie Hwang and Joie Mazor
Music: Ni Ten Ichi Ryu
Costumes: Ben Mazor
Dancers: Cycloid Chieftains: Cherie Hwang , Joie Mazor
Cycloids: Snipes:
Shirin Bakhshay Alex Molayem
Roberta Berredo Adam Scher
Oren Kashanian Carolina Gutierrez
Carter Klein Aaron Harvey
Sarah Koplin Laura Karlin
Shelby Kraushaar Noah Pivko
Elina Lerman Mythili Prakash
Michael Wells
---



B. Weiss


LA FUERZA DE LA SEDUCCION
Choreography: Elizabeth Drumea
Music: Astor Piazzolla
Dancers: Elizabeth Drumea, Jesse Macht

In memory of my beloved father.
---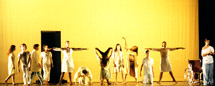 B. Weiss
OfF wHiTe
Choreography: Adam Scher
Music: Stevie Wonder, Anna Homler, 3 Legged Torso
Dancers: Sanity: Carter Klein, Mythili Prakash
Insanity:
Cherie Hwang Joie Mazor
Laura Karlin Maya Melczer
Oren Kashanian Adam Scher
Sarah Koplin Warren Sroka
Elina Lerman Michael Wells
---
THROWINŪ IT DOWN 2000
Choreography: Aaron Harvey
Music: DMX
The A.P. Posse:
Roberta Berredo Aaron Harvey
Elizabeth Drumea Oren Kashanian
Cherie Hwang Jesse Macht
Joie Mazor Elina Lerman
---
HELL ST. AND 42ND.
Welcome to Hell St. and 42nd.
Here there are no rules
You do what WE say
All you cry babies go back home!
You wanna live? THEN FIGHT
The streets... our home.
Choreography: Elina Lerman
Music: Tricky
Dancers: Street Family: Upper East Side Boys:
Ice - Elina Lerman William - Alex Molayem
Ruby - Joie Mazor Brandon - Adam Scher
Tiny - Elizabeth Drumea Laurence - Jesse Macht
Sam - Carolina Gutierrez
Kitty - Shirin Bakhshay
Trickster - Aaron Harvey
---
STOMPIN
Choreography: Frit and Frat Fuller
Music: Bobby McFerren, Ray Charles
Costumes: Kin Dance Company
Dancers:
Elizabeth Drumea Jesse Macht
Adam Gerber Joie Mazor
Carolina Gutierrez Alex Molayem
Aaron Harvey Noah Pivko
Oren Kashanian Galit Prince
Sarah Koplin Adam Scher
Shelby Kraushaar Warren Sroka
Elina Lerman Michael Wells
---

(INTERMISSION)
---
control.alt.delete
Choreographer: Rachael Robbins
Music: Stuart Dempster, Phillip Glass, Orbital
Costumes: Nirit Lechtman
Set Design: Rachael Robbins
Dancers:
Elizabeth Drumea Shelby Kraushaar
Mythilia Prakash Elina Lerman
Laura Karlin Jesse Macht
Oren Kashanian Joie Mazor
Sarah Koplin Alex Molayem
Special Thanks to Mike at the Beat for music editing.
---
THE LITTLE ENGINE THAT COULD
Once upon a time long, long ago, two men sat on the top of a hill waiting for The Little Engine That Could. The Little Engine That Could was an old-fashioned, beat-up train that had difficulty traveling long distances and chugging up steep hills. The two men had been waiting for a long, long time...
Choreographed and Danced by: Oren Kashanian and Michael Wells
Music: Traditional African Spiritual, The Corporation
---
SOMNAMBULIST
Choreography: Warren Sroka
Music: Bob Dylan performed by the Dave Mathews Band
Dancers:
Roberta Berredo Shelby Kraushaar
Sarah Koplin Joie Mazor
Elizabeth Drumea Adam Scher
Oren Kashanian Warren Sroka
---
MANIACAL
Choreographers: Bradford Matthews-Robinson, Yasmeen Kwesi
Music: Busta Rhymes
Assistant Choreographer: Debi White
The A. P. Posse:
Elizabeth Drumea Aaron Harvey
Joie Mazor Oren Kashanian
Elina Lerman
---
SYMBIOTIC
Balance hanging between us, hold me
Or I will fall from you, yet
Underneath the world beckons,
No longer forced in your direction, but
Dancing free.
Choreographer: Laura Karlin
TRIPOD
Music composed and performed by Steve Molitz
Tripod #1: Sarah Koplin, Mythili Prakash
Tripod #2: Shelby Kraushaar, Galit Prince
Freeforms: Shirin Bakhshay
Carolina Gutierrez
Laura Karlin
UMBILICAL
Music: Jocelyn Montgomery, remixed by Steve Molitz
Duet: Elizabeth Drumea, Maya Melczer
Freeforms: As above with Dana Eli
---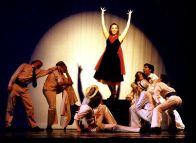 B. Weiss K. Mazor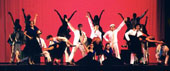 B. Weiss K. Mazor

CUBANISSIMO
Havana, 1958
Choreography: Janet Roston
Music: Tito Puente
Costumes: Nirit Lechtman
Mambo Consultant: Michael Kuka

Afternoon at the Cantina Del Sol
Dancers: Sarah Koplin and the men of The Company 2000
Evening at the Club Carribe
Dancers: The Company 2000
Special Guests:
Adam Gerber Josh Farahnik
Jamin Purcell Matthew Roston
Marcus Toji Ryan Cooper
---
GUEST CHOREOGRAPHERS

Frit and Frat Fuller, Texas natives, are both graduates of Cal Arts where they have collectively earned their BFA and MFA degrees in dance choreography and dance performance. They have been guest artists at numerous schools including UCLA, Cal State Northridge, Orange County High School of the Arts, and Glendale College. The Fullers have worked under choreographers Donna Wood, Loretta Livingston, Karole Armitage, Sean Greene, and Ron Field. They have choreographed numerous shows for Universal Studios and several television episodes. Other credits include the Miss Teen America Pageant, APLA S.T.A.G.E. Benefit and žBerlin on BroadwayÓ at the Strand Theater in Minnesota. Frit and Frat are the Artistic Directors of the acclaimed KIN Dance Company which has performed at the Inner-City Games, Occidental College, Ford Amphitheater, and Highways. They staged žEnemy Within KinÓ for The Company Ž98.

ALUMNA CHOREOGRAPHER

Rachael Robbins received her BFA in Dance from California State University, Long Beach. At CSULB she performed in works by Martha Graham, Lar Lubavitch, Janet Eiber, Jeff Slayton and Keith Johnson. In 1996 she received the Fine Art Affiliate Scholarship for her solo, žEnfold Me in Your WingsÓ. She is currently a member of Naomi GoldbergŪs žLos Angeles Modern Dance and BalletÓ and is rehearsal assistant/choreographer for the Keshet Chaim Dance Ensemble. She also works professionally as a lighting designer and stage manager. This is her second year as an alumni choreographer and third year as Assistant Artistic Director. She hopes to continue to share her love of dance with BeverlyŪs very special group of dancers. Rachael was a member of The Company Ž91, Ž92, Ž93.
---
ARTISTIC DIRECTOR
Janet Roston has worked as a choreographer in a wide variety of media including numerous films, corporate shows, and commercials (including numerous spots for Disney). Television credits include the NBC mini-series žSeduced by MadnessÓ starring Ann-Margret and Peter Coyote, žNed and StaceyÓ, žGeorgeÓ, and žA League of Their OwnÓ. Theater choreography includes žAvenue XÓ at the Odyssey Theater for which she received a Drama-Logue Award , žA...My Name is AliceÓ at the Long Beach Center Theater, and žNite-Club ConfidentialÓ starring Scott Bakula which won an L.A. Weekly Award for outstanding musical production. Janet produced and directed the instructional video žPrinciples of ChoreographyÓ which has won medals at the New York Film Festival, Houston Film Festival, and Columbus Film Festival. This past year she staged the National Tour of award-winning Nashville recording artists žLonestar.Ó She has directed the Advanced Dance Theater Group for 19 years. She sends her warmest regards to all alumni of The Company.
SPECIAL THANKS
The Advanced Dance Parent Committee, BCBG, Century City Hospital, Fiona Karlin, Christine King, John Klein, Pam Kraushaar, Jennifer Logan, Photo Impact, Batia Prince, Pete Sayegh, Helene Steel, BHHS Performing Arts and Physical Education Departments.
The Company 2000 to attend the National High School Dance Festival
For the second time, the Advanced Dance Theater Group will attend the National High School Dance Festival held this year at California State University Long Beach, March 9-12. This bi-annual event will feature master classes ranging from ballet, jazz, modern and ethnic dance to dance medicine and nutrition. Auditions at the festival will give Company members an opportunity to receive scholarships from major university, conservatory dance programs and summer workshops.
After a competitive adjudication process The Company was selected to present three works in the NHSDFŪs Gala Concert. These dances are Rachael Robbins' "control.alt.delete" Yolanda-Edgell's "Just Kidding," and Elina Lerman's "Septic Affliction-Welcome to our Web" (the last two dances originally performed by The Company '99)
PRODUCTION STAFF
ARTISTIC DIRECTOR..............................JANET ROSTON
ASSISTANT ARTISTIC DIRECTOR..............................RACHAEL ROBBINS, CHRISTY BOLINGBROKE
COMPANY MANAGER..............................HADAR SEYEGH
COSTUME MANAGER..............................RACHEL WEINSTEIN
ASSISTANT COSTUME MANAGER..............................VANESSA POSTIL
PUBLICITY MANAGER..............................SHEERA FRENKEL
ASSISTANT PUBLICITY MANAGER..............................SARAH MATINFAR
COMPANY TECHNICAL MANAGER..............................SABRINA STEEL
PRODUCTION ASSISTANT..............................LINDSAY TUCKER
COSTUME DESIGN..............................NIRIT LECHTMAN
LIGHTING DESIGN .............................. RACHAEL ROBBINS
TECHNICAL DIRECTOR ..............................ANNIE TERRY
ASSISTANT STAGE MANAGER ..............................JASON COLOMBETTI
LIGHTING DIRECTOR ..............................JOSH DANESHGAR
LIGHT CREW/SET SHIFT CREW.............................. MANUEL ARTADI, LEIGH ESKOVITZ, JOSH GREENSPOON, KAREN SWAN
SOUND DIRECTORS.............................. MATT ELLIS, MICHAEL HAUSNER
FLY MASTER.............................. JON MILLER
FLY CREW.............................. EVAN BARQUIST, JON DANESHGAR, ARNOLD LESIN
PARENT COMMITTEE CHAIRPERSON.............................. PAM KRAUSHAAR
POSTER AND PROGRAM COVER PHOTO.............................. HELENE STEEL
POSTER AND PROGRAM DESIGN ..............................JENNIFER LOGAN
ADVERTISING DIRECTOR ..............................CHRISTINE KING
CONCERT PROGRAM CO-ORDINATOR ..............................FIONA KARLIN
AUDIO-VISUAL DIRECTOR ..............................DAVE STILES
BEVERLY HILLS HIGH SCHOOL ADMINISTRATION
MR. BEN BUSHMAN PRINCIPAL
MS. GAYLA RABIN ASSISTANT PRINCIPAL
MR. CHUCK KLOES ASSISTANT PRINCIPAL
MR. RICK MUNITZ ASSISTANT PRINCIPAL
DISTRICT ADMINISTRATION
MR. KENNETH L. MOFFETT, Ed. D. SUPERINTENDENT
MS. DIANE DAWSON ASSISTANT SUPERINTENDENT
MR. WES STEWART ASSISTANT SUPERINTENDENT
BOARD OF EDUCATION
DR. WILLIAM BRIEN PRESIDENT
MS. ALISSA ROSTON VICE-PRESIDENT
MR. BARRY BRUCKER MEMBER
MR. GERALD LUNN MEMBER
MRS. VIRGINIA MAAS MEMBER

Janet Roston/Barry Weiss
Dance!90210.com