Welcome to the Advanced Dance Theater Group
of Beverly Hills High School


The COMPANY 2004

"The Company 04," Beverly Hills High School's highly acclaimed Advanced Dance Theater Group will perform their annual concert, January 14, 15, 16, and 17 in Beverly Hills High School's K.L. Peters Auditorium. The Company is recognized as one of the top high school dance ensembles in the country, all the more remarkable because Beverly High is not a performing arts magnet high school. This year's group includes 23 talented students, including some who have choreographed unique and inspiring dances.

Janet Roston, who has been directing the Company for over 20 years, has produced a fresh and innovative choreographic work for this concert based on the videogame, "Dance, Dance Revolution." Guest choreographers, Roni Kosmal-Wernik and Jennifer Jessum are both company alumnae who have returned to share their original and unique styles of dance for this year's concert. Ms. Wernick, who has recently returned from three years in Israel, shares her experiences of living in a time of crisis through choreography. Ms. Jessum has composed an extraordinary dance based on the all time favorite children's story, Alice in Wonderland. In this work Alice goes through an "out of body experience." This dance incorporates intricate costumes and unique set pieces. One student work that will definitely stand out is choreographed by Robbie Nadler. For this piece, he shows how five American soldiers deal with war through letters home to loved ones.

Among the program's other highlights are a trio performed with live vocalists, two strong hip-hop dances created by professional choreographers, and wild choreography set to Metallica. The Company's reputation for presenting superior and richly diverse performances with professional production elements always draws large audiences.

The concert will run Wednesday through Saturday, January 14-17, at 7:30pm, in the K.L. Peters Auditorium. Tickets may be purchased either at the door, or in advance from a company member. Student tickets cost $8 and $10 for adults.

* * *
This Performance is Dedicated to the Memory of
Carter Klein
The Company '98, '99, '00, '01



* * *




CONTENTS
COMPANY 2004 ROSTER

Orian Ben-Artzi Grade 11
Corinna Bendersky Grade 11
Megan Bernstein Grade 10
Lauren Brucker Grade 10
Jesse Carlson Grade 9
Talia Eichenbaum Grade 12
Gregory Frances Grade 12
Jared Green Grade 11
Diana Hamar Grade 11
Margo Horowitz Grade 11
Melissa Joseph Grade 12
Robby Nadler Grade 12
Julia Romanskaya Grade 10
Eden Schroder Grade 9
Erica Sheerin Grade 11
Rachel Silberman Grade 10
Nathaniel Smith Grade 12
Lauren Spieller Grade 12
Vienna Willems Grade 12
Maddie Woods Grade 10

APPRENTICES
Amanda Leiter Grade 11
Ashley Steinberg Grade 10
Justin Winegred Grade 12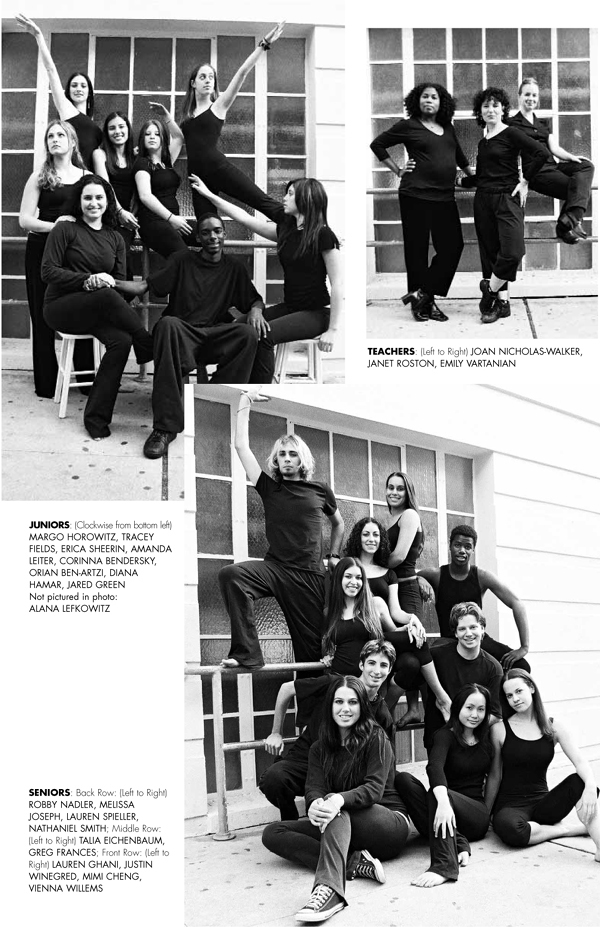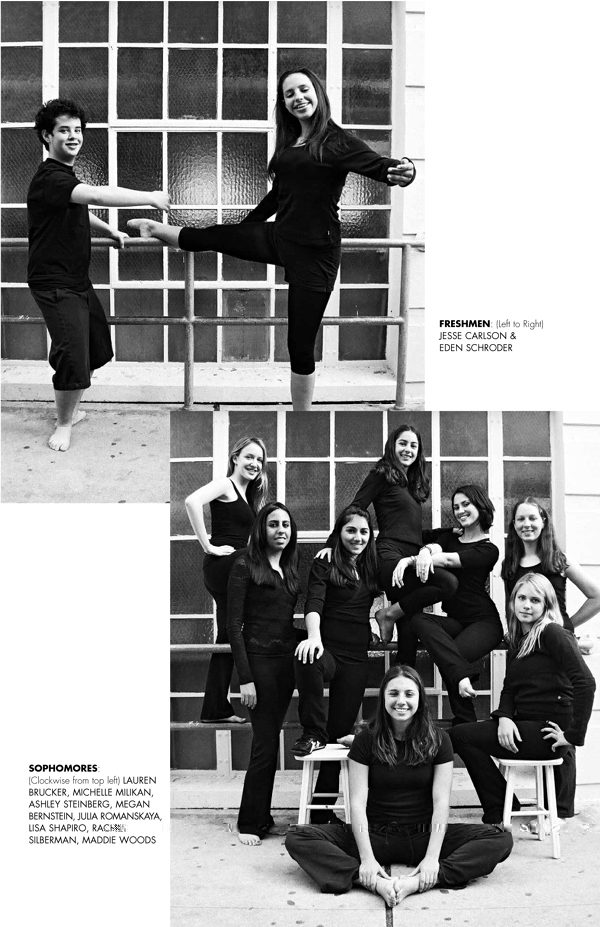 Company Portraits by Rose Eichenbaum

Concert Photos by Barry Weiss

The PROGRAM
(Click on any thumbnail to view all the concert photos)


Company Roll Call
Choreography: Janet Roston
Movement created by: The Company 2004
Music: Harry Nilsson
Dancers: The Company 2004

All movement in this choreography was created by the dancers using their body to write their name.


Crossing Over
Choreography: Vienna Willems
Music: Rithma
Dancers: Orian Ben-Artzi, Corinna Bendersky, Megan Bernstein, Margo Horowitz, Erica Sheerin, Vienna Willems, and Maddie Woods


How Green was my Valley
For if he is dead, then I am dead, and we are dead, and all of sense a mockery. How green was my Valley, then, and the Valley of them that have gone -Richard Llewellyn
Choreography: Robby Nadler

Ordinary People
No need for any more words. The sun is warm on his back. He could fall asleep there, maybe he will, waiting for whatever comes next -Judith Guest
Text and Poem: Robby Nadler
Voices in order of appearance: Bruce Horowitz, Daniel Kliman, Nathaniel Smith, Robert Neville, David Oh, and Barry Brucker
Sound Design: David Karagianis
Dancers in order of appearance:
Letter One: Soldier - Vienna Willems
Letter Two: Soldier - Melissa Joseph, Younger Brother- Erica Sheerin
Letter Three: Soldier - Maddie Woods, Grandfather- Jared Green, Grandmother- Margo Horowitz
Letter Four: Soldier - Julia Romanskaya, Daughter- Orian Ben-Artzi
Letter Five & Six: Soldier - Robby Nadler, Mother- Diana Hamar
Understudy: Amanda Leiter

A Separate Peace
All of them... saw across the frontier, this enemy who never attacked that way - if he ever attacked at all; if he was indeed the enemy - John Knowles
Music: Samuel Barber
Dancers:
Angels - Melissa Joseph, Julia Romanskaya, Vienna Willems, and Maddie Woods
Institutionalized Soldier- Robby Nadler

This piece is dedicated to my closest friend, Shane, the inspiration behind this piece who faces this fiction as a possible fate, and to Mr. Sprouse, the man who taught me to see war as a puddle of gray.


Diesel
Choreography: Bradford Robinson
Music: Big Gripp, Erykah Badu, Busta Rhymes, Missy Elliot, Rah Digga and Da Band
Dancers:The AP Posse
Shanala "Reshea" Barnett, Jesse Carlson, Gregory Frances, Jared Green, Diana Hamar, Amy Hartendorp, Melissa Joseph, Felix Kim, Sharnell Odom, Julia Romanskaya, Eden Schroder, Nathaniel Smith, Taizo Tachibana, Lauren Spieller, Megan Whalen, and Justin Winegred
Special Guests: Felix Kim and Raymond Su


Between the Lines
Directed by: Joan Nicholas-Walker

Part One
Music: Steve Reich
First Section
Choreography: Corinna Bendersky and Julia Romanskaya
Dancers: Orian Ben-Artzi, Corinna Bendersky, Lauren Brucker, Margo Horowitz, Julia Romanskaya, and Erica Sheerin

Second Section
Choreography: Margo Horowitz, in collaboration with the dancers
Dancers: Orian Ben-Artzi, Lauren Brucker, Rachel Silberman, Nathaniel Smith, and Maddie Woods

Part Two
Music: Paul Simon
Choreography: Lauren Brucker
Dancers: Corinna Bendersky, Megan Bernstein, Talia Eichenbaum, Margo Horowitz, Amanda Leiter, Julia Romanskaya, Eden Schroder, and Ashley Steinberg

Solo Choreography: for Parts One and Two: Jared Green
Dancers: Jesse Carlson, Gregory Frances, and Robby Nadler

Choreography for this dance was based on books from the English reading list. The choreographers developed individual sections based on texts that were then united into this dance. The texts were: Corinna Bendersky and Julia Romanskaya, The Grapes of Wrath; Margo Horowitz, Ethan Frome and The Invisible Man; Lauren Brucker, The Bible – The Garden of Eden; Jared Green, Just Say No.


Through The Living Glass (2002)
For Bhagavan
Choreography: Jennifer Jessum
Music: Dead Can Dance, Chris DeRosa (Mixed by Jennifer Jessum and Chris DeRosa)
Original Costume Design: Elizabeth Payne
Additional Costume Design: Janet Teller
Original Set Design: Hernan Peñuela
Additional Set Design/Construction: Annie Terry
Original Lighting Design: Lucrecia Briceño
Additional Lighting Design: Rachael Robbins
Video Direction: Jennifer Jessum
Video Animation: Vanessa Wood

Dancers:
Alice - Melissa Joseph
Parents - Amanda Leiter and Justin Winegred
Mad Hatter - Robby Nadler
Tea Party - Corinna Bendersky, Jared Green, Gregory Frances, Eden Schroder, Nathaniel Smith, and Maddie Woods
Tweedles - Lauren Spieller and Vienna Willems
Queen - Julia Romanskaya
Queen's Minions - Orian Ben-Artzi, Corinna Bendersky, Megan Bernstein, Lauren Brucker, Jesse Carlson, Talia Eichenbaum, Jared Green, Margo Horowitz, Eden Schroder, Erica Sheerin, Rachel Silberman, Nathaniel Smith, Ashley Steinberg, and Maddie Woods
Alice's Body - Diana Hamar

Through The Living Glass is an interpretation of Lewis Carroll's Alice in Wonderland as a near death experience.

This work was originally created as part of the Directors and Choreographers workshop at New York University's Tisch School of the Arts Department of Dance. Some costumes on loan from NYU Tisch School of the Arts, Department of Dance. Special thanks to the dancers who were in the original cast, the graduate design students who collaborated on this project and to Kay Cummings, Linda Tarnay and the Department of Dance at NYU.



Benediction
Choreography: Melissa Joseph
Music: Metallica
Dancers: Melissa Joseph, Eden Schroder, Rachel Silberman, Lauren Spieller, and Maddie Woods


Two Years in a Land
Choreography: Roni Kosmal-Wernick

Tight Rope
Music: Woven
Dancer: Vienna Willems

Hold
Music: Eidan Raichel
Dancers: Lauren Brucker, Talia Eichenbaum, Julia Romanskaya, Rachel Silberman, Lauren Spieller, Vienna Willems, and Maddie Woods


La SupaRideDutchRockShake
Choreography: Bosco
Music: Missy Elliott, Kelis, Jay-Z, MC Lyte, and Method Man & Redman

Dancers: The AP Posse
Shanala "Reshea" Barnett, Jesse Carlson, Gregory Frances, Jared Green, Diana Hamar, Amy Hartendorp, Melissa Joseph, Felix Kim, Robby Nadler, Sharnell Odom, Julia Romanskaya, Eden Schroder, Nathaniel Smith, Lauren Spieller, Megan Whalen, and Justin Winegred


Autumnal Sighs
Choreography: Melissa Joseph, Lauren Spieller, and Vienna Willems
Music: Cat Stevens
Dancers: Melissa Joseph, Lauren Spieller, and Vienna Willems
Vocalists: Ayelet Firstenberg and Ashley Schneidman


DDR-84
Choreography: Janet Roston
Music: King Kong & D. Jungle Girls, Scotty D., Polyphonic Spree, Akufen, and DJ Cheb I Sahhah
Sound Design: David Karagianis
Fight Choreography: Rachael Robbins
DDR Consultant: Jered Blumenfeld
Dancers: The Company 2004
DDR: Adam Dayan, Ivan Huang, Matt McEwan, David Roston, Taizo Tachibana
Special Guests: Tiffany Cho, Ayelet Firstenberg,Gali Firstenberg, Simone Franjd, Erin Goldman, Kimmie Goldstein, Amy Hartendorp, Mia Henley, Maya Lasry, Kelsy Miller, Danielle Moshi, Nicole Mosqueda, Dolly Mullen, Amy Rothner, Paige Saxby, Ashley Schneidman, Sara Shin, Jody Siegel and Megan Whalen

Choreographer's Note: I first saw a boy playing the videogame "Dance, Dance Revolution" in an arcade with the display screen lighting up his face. It was robotic, hypnotic, and most certainly dance. Last summer I reread George Orwell's 1984 and connected the story with the DDR movement style I'd seen in the arcade. DDR-84 does not follow the exact storyline of 1984 but utilizes images and concepts from the book. "…the object of war is not to make or prevent conquests of territory, but to keep the structure of society intact… War is Peace" George Orwell, 1984


Bows
Choreography: Janet Roston
Brazilian Dance: Katia Moraes
Music: Sergio Mendes
Dancers: Ensemble


BIOGRAPHIES
Artistic Director, Janet Roston has worked as a choreographer in a wide variety of media. She has created choreography for numerous commercials including Disney, ABC, Barbie, and Motorola. Television credits include the mini-series Seduced by Madness starring Ann-Margret and Peter Coyote, Ned and Stacey, and A League of Their Own. Recent work includes choreography for the upcoming films "The Last Shot" starring Matthew Broderick and "How Does It Feel" starring Blair Underwood. She was recently nominated by The American Choreography Awards for her work on the in-theater KCRW promo, "Balance". Theater choreography includes the recent 20th Anniversary production of Tracers and Avenue X at the Odyssey Theater (for which she received a Drama-Logue Award), A…My Name is Alice and Bed and Sofa at the Long Beach Center Theater, and Nite-Club Confidential starring Scott Bakula (which won an L.A. Weekly Award for outstanding musical production). Her concert choreography has been presented at Dance Spectrum, the Hollywood Playhouse, Glam Slam, and the Los Angeles Dance Invitational. Janet recently received the Muses 100 Enemble Award at the Palm Desert Choreography Festival for "The Tanjore Project". Her work as a director includes the PSA for Penny Lane Foster Care currently airing on television, the National Tour for Nashville recording artists Lonestar, and the instructional video Principles of Choreography which won medals at the New York Film Festival, Houston Film Festival, and Columbus Film Festival. Through her company, M.A.D. Degrees Productions, Janet produces instructional dance videos that are marketed worldwide. This is her 22nd year as Artistic Director of The Company. Janet sends special love to all of her Company Alumni.

Assistant Artistic Director, Joan Nicholas-Walker is a performer, choreographer, and dance educator. Currently, she teaches part-time at Cal State Long Beach for the Dance Department. She obtained a Masters in Fine Arts degree in dance from The Ohio State University in 1999 and a Bachelor of Fine Arts degree in dance from George Mason University in 1995. She has performed her own modern choreography and works of others in the U.S, and abroad.

Assistant Artistic Director, Emily Smyth Vartanian is in her fifth and final year as a dance concentration in the World Arts and Cultures program at UCLA. She has been dancing and performing for almost two decades. She is founder and producer of WAC SMASH!, the annual showcase of undergraduate student dance works at UCLA, and has worked on various aspects of performance production at Grand Performances, the Los Angeles Philharmonic and the Hollywood Bowl.

Lighting Designer, Rachael Robbins Kachko has been the lighting designer for Dance Company for the last six years. She was the Assistant Artistic Director for five years and contributed choreography during that time. Her dance "control.alt.delete" was performed by Company at ASDF. Rachael graduated from Cal State Long Beach with a degree in Dance Performance/Choreography.

Guest Choreographer, Jennifer Jessum holds an MFA in Dance from New York University's Tisch School of the Arts where she did work in dance, film and music. She is the Artistic Director of Flying Limbs Inc, Productions and was Co-Founder, Director and Producer for the Denver based Off Center Dance Collective. Her choreography has been produced and commissioned from many venues and companies throughout the US including: Evolving Arts and The Cunningham Studios in NYC, On The Boards and D-9 Dance Collective in Seattle, and The Cleo Parker Robinson Dance Theater in Denver. Commissions include: the national T.V. commercial In The Spirit of Women, The Off Broadway musical It Must Be Love, The Company at Beverly Hills High School, Between the Bones Dance Company, and the Manchester Dance Festival where she was the recipient of a Choreographic Fellowship and a Meet The Composer joint grant. Her choreography and fight choreography has been featured in numerous independent films and videos and she has been the recipient of three Artist in Residence Fellowships from Sian Kaan Artistas in Quintana Roo, Mexico. Performing credits include: Elizabeth Streb, Bebe Miller, Hannah Khan Dance Company, and Maédee Duprés. She has taught at many fine institutions including: Princeton University, New York University, Pacific Northwest Ballet, and Manchester Dance Festival. Jennifer was a four year member of The Company from 1982-1986. This year marks her fourth return to The Company as a guest choreographer.

Alumni Choreographer, Roni Kosmal-Wernik has spent the last ten years traveling, studying and teaching dance in various places. Most recently, her last two years were spent living in Jerusalem, Israel where she had works performed at both the Jerusalem Festival and the 34th World Zionist Congress. "Two Years in a Land", the piece she created for this concert, was inspired by the time she spent in Jerusalem. She is honored to be back at BHHS, working with Janet and the talented members of Company 2004. Roni was a Dance Company member from 1991 to 1994. She would like to thank her husband, Rami, for his ever-present support and her daughter, Zohar, for allowing her Ema to go to rehearsals.

A.P. Posse Choreographer, Bosco, has been choreographing, instructing, and performing in Los Angeles for the past two years. He has performed for the National Basketball Association, Pony, Nike, Great Clips, Aveda, and the Minnesota Timberwolves. He's also woked with Kelly Rowland, B2K, Tyra Banks, Rome, Marques Houston, Melody, and Barbara Baldieri. Bosco can be seen dancing in the feature films' "You Got Served" and "The Seat Filler", along with a television appearance on "the Search for America's Next Top Model: 2." He is also a featured soloist in the Barbara Baldieri video "Todo Lo Que Quiero." Bosco's own choreography credits include a live stage show for Aveda, assistant to choreographer Tony Michaels on Tyra Banks' video "Shake Ya Body", and Kelly Rowland's "Follow Your Destiny."

A.P. Posse Choreographer, Bradford Robinson is currently a student at West Los Angeles College. Brad has created hip-hop choreography for M.A.D. Degrees Productions instructional dance video, "Hip-Hop Habit 4", "Hot Property" at the Mayan Nightclub, and for this year's WB Fall Season kickoff. He has performed at Carnivale, Dance Spectrum, and Palm Desert Choreography Festival. This is his fifth year choreographing for The Company.


PRODUCTION STAFF
Artistic Director – Janet Roston
Assistant Artistic Directors – Joan Nicholas-Walker and Emily Smyth Vartanian
Technical Director – Annie Terry
Lighting Designer – Rachael Robbins
Costume Design – Janet Teller
Company Manager – Mimi Cheng
Production Manager – Lauren Ghani
Assistant Production Managers – Michelle Milikan and Lisa Shapiro
Costume Manager – Tracey Fields
Assistant Costume Manager – Alana Lefkowitz
Assistant Stage Managers/Set Shift Directors – Chelsea Price and Meirav Rotstein
Flymaster – Bracha Fisk
Lighting Director – Doreen Sayagh
Sound Directors – Tiffany Brown and Jenna Gurnick
Light/Set Shift/Fly Crew – David Cohan, Luke Davis, Michelle Jang, and Aliza Scher
Poster and Program Design – Jennifer Logan
Cover and Poster Photo – Alice Kuo
Program Photos – Rose Eichenbaum
Parent Committee Chairperson – Karen Horowitz
Audio-Visual Director – Dave Stiles
Concert Program Coordinator – Sue Brucker

Beverly Hills High School Administration

Principal – Mr. Dan Stepenosky
Assistant Principal – Ms. Dana Berk
Assistant Principal – Mrs. Gayla Rabin
Assistant Principal – Mr. David Hoffman

District Administration

Superintendent – Mr. Jeffrey Hubbard
Assistant Superintendent, Business – Mr. Gary Mortimer
Assistant Superintendent, Educational Services – Mr. W. Rex Comer
Assistant Superintendent, Human Resources – Dr. JudyAnn Allen

Board of Education

President – Dr. Myra Demeter, PhD
Vice-President – Mrs. Alissa Roston
Board Member – Mr. Barry Brucker
Board Member – Ms. Myra Lurie
Board Member – Mr. John Millan
Student Representative – Mr. Andrew Steinberg

Special Thanks: Karen Horowitz, Sue Brucker, Julia Joseph, Denise Leiter, Jennifer Logan, Barry Weiss, Alice Kuo, Dana Berk, Woody Woods, Liz Brockway, all Company Parents, and The Performing Arts Department.



Janet Roston/Barry Weiss
Dance!90210.com