Welcome to the Advanced Dance Theater Group
of Beverly Hills High School



The COMPANY 2006

The Company '06 offers an eclectic program including jazz, modern, ballet, and hip-hop dances created by students, alumni choreographers Ben Levy ('98) and Darren Wright ('98), Assistant Artistic Director, Liz Sroka ('99), and Artistic Director, Roni Kosmal-Wernik ('94). Kosmal-Wernik has choreographed two dramatic pieces this year, including a brilliant staging of Peter Pan with a rock'n roll twist. Liz Sroka has once again returned to share her unique style of dance for this year's concert. The concert opens with an exuberent dance by senior Lauren Brucker featuring music by The Dave Matthews Band.

The Company's reputation for presenting superior and richly diverse performances with professional production elements always draws large audiences. The AP Posse hip-hop group is one of the main reasons for its growing popularity. Two strong hip-hop dances were created by professional choreographers this year. Bradford Robinson created "Myoosak," a comical infomercial to the beats of artists such as Kanye West, Missy Elliot, and Janet Jackson.

Kozmal-Wernik's piece "Games of Love," features spectacular aerial fabric work reminiscent of Cirque de Soliel, directed by Benn Mendoza. The concert's finale is an exciting and beautiful cine-ballet titled "Portal," which involves a girl, a door, and a great adventure. The film was shot over the summer with Company members by filmaker-choreographer Jennifer Jessum ('98), now a graduate student at USC Film School.




COMPANY 2006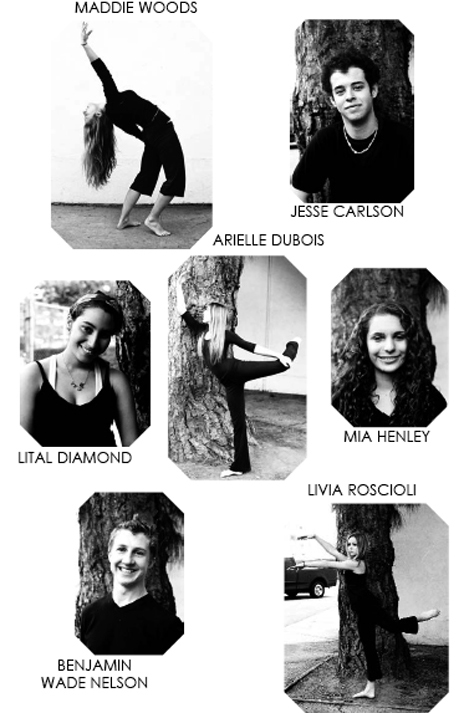 PRODUCTION TEAM

The PROGRAM


JUMP IN THE MUD
choreography: LAUREN BRUCKER
music: DAVE MATHEWS BAND
dancers: THE COMPANY '06


WE ALL START OUT AS SEEDS
choreography: MAXWELL KOPEIKIN
music: AKRON/FAMILY
dancers: LAUREN BRUCKER, JESSE CARLSON, LITAL
DIAMOND, MAXWELL KOPEIKIN, DANIELLE KRAKOV,
EDRIC LEGGETT, LIVIA ROSCIOLI, ASHLEY STEINBERG,
JOSH GARCIA


MYOOZAK: HAPPINESS IN A BOTTLE
choreography: BRADFORD ROBINSON
assistant to the choreographer: AJA GEORGE
music: BLACK EYED PEAS, MISSY ELLIOT, KANYE WEST,
KELIS, JOJO, JANET JACKSON, DEM FRANCHISE BOYZ,,
MIKE JONES, KANYE WEST, MAROON 5, DESTINY'S CHILD,
FLOETRY, AMERIE, LUDACRIS
dancers: LAUREN BRUCKER, JESSE CARLSON, DANIELLE
KRAKOV, EDRIC LEGGETT, DANIELLE LEVY, JACKIE LLOYD,
JULIA ROMANSKAYA, EDEN SCHRODER, ASHLEY
STEIN BERG, ERIN GOLDMAN, ARIELLE DERHY, BEN
NELSON, BRIANNA SMITH, BRITTNAY KERSEY, DAWIT
HAILELEUL, DIDI UMEH, DOLLY MULLEN, EBONEE WALL,
GENNETTE DARTY, HANNAH KIM, HANNAH MENDELSOHN,
MARIAH WEST, PONTEA BANAYAN, SUSAN PARK,
SYNMIA NICHOLAS, TODD SHEERIN


LE CHAT NOIR
choreography: MEGAN BERNSTEIN & ASHLEY STEINBERG
music: PARIS COMBO, 40 DEUCE
cabaret dancers: MEGAN BERNSTEIN, ARIELLE DUBOIS,
MICHELLE LAKSMAN, DANIELLE LEVY, ASHLEY STEINBERG
audience: LAUREN BRUCKER, JESSE CARLSON, LITAL
DIAMOND, JOSH GARCIA, MIA HENLEY, MAXWELL
KOPEIKIN, ELMON LEGGETT JR., YARON SADKA, NICOLAS
SMITH, JONATHAN WEISS, MADDIE WOODS


FALLING AFTER TOO
(re-staged for Beverly Hills High School)
choreography: BENJAMIN LEVY & DARRIN WRIGHT
music: ANTHONY POORTER
dancers: JESSE CARLSON, JACKIE LLOYD, BENJAMIN WADE
NELSON, JULIA ROMANSKAYA, EDEN SCHRODER, MADDIE WOODS


TAKE IT UP
choreography: RONI KOSMAL-WERNIK & BRADFORD THOMAS
music: BLACK BUDDAFLY
dancers: JESSE CARLSON
Special AP Posse Guest EBONEE WALL


SERENITY IN THE MIDST OF CHAOS THE RIPPLED EFFECT choreography: LAUREN BRUCKER
music: SARAH MCLACHLAN
dancers: MEGAN BERNSTEIN, LITAL DIAMOND, MIA HENLEY,
DANIELLE KRAKOV, MICHELLE LAKSMAN, EDEN SCHRODER,
ASHLEY STEINBERG, MADDIE WOODS
"The face is the mirror of the mind, and the eyes without
speaking confess the secrets of the heart." ~ St. Jerome


GAMES IN LOVE
Inspired by J.M. Barrie's "Peter Pan"
choreography: RONI KOSMAL-WERNIK
additional costume design and creation: VERONIKA SHULMAN, JESSICA FLON
PART ONE: "I'M WENDY"
music: RONI KOSMAL-WERNIK & MARC VINER
dancers: PETER: BENJAMIN WADE NELSON
WENDY: JULIA ROMANSKAYA
PART TWO: NEVERLAND
aerial fabric choreography: BENN MENDOZA
music: RADIOHEAD
dancers: THE COMPANY '06
TINKERBELLS (aerialists): ARIELLE DUBOIS, MEGAN BERNSTEIN, MICHELLE MILIKAN
LOST BOYS AND GIRLS: LAUREN BRUCKER, JESSE
CARLSON, MIA HENLEY, DANIELLE MOSHI, EDRIC
LEGGETT, ELMON LEGGETT JR.
INDIANS: JOSH GARCIA, JACKIE LLOYD, EDEN SCHRODER
TIGER LILY: ERIN GOLDMAN
MERMAIDS: DANIELLE LEVY, LIVIA ROSCIOLI, MADDIE WOODS
PIRATES: LITAL DIAMOND, DANIELLE KRAKOV, MAXWELL
KOPEIKIN, YARON SADKA, NICOLAS SMITH, ASHLEY
STEINBERG, JONATHAN WEISS

INTERMISSION


PORTAL (Part 1)
For Bhagavan
Written, Directed & Choreographed by: Jennifer Jessum
Cinematography By: Chris Hall & Phan Tran
Produced By: Jennifer Jessum & Sabi Lofgren
Music By: Paul Spaeth
Art Direction By: Stacey McKenzie
Sound Design, Editing and Vocals by: Jennifer Jessum
Starring: Company '06, Dr. Dan Stepenosky and other special guests
(For additional film credits and thank you's please see credits at end of the film)


MOVE MAMMA
choreography: RONI KOSMAL-WERNIK
music: ZAP MAMA
dancers: MEGAN BERNSTEIN, ARIELLE DUBOIS, JACKIE LLOYD,
MADDIE WOODS


GUMBALLS AND STALKERS
choreography: LIZ SROKA
music: DEAD CAN DANCE, MUSLIMGAUZE, NAZCA,
KRONOS QUARTET, GIOVANNI SOLLIMA, AMON TOBIN
music collage and editing: LIZ SROKA
dancers: MEGAN BERNSTEIN, LAUREN BRUCKER, JESSE
CARLSON, ARIELLE DUBOIS, MIA HENLEY, DANIELLE LEVY,
JACKIE LLOYD, BENJAMIN WADE NELSON, JULIA
ROMANSKAYA, EDEN SCHRODER, ASHLEY STEINBERG,
MADDIE WOODS
NEW YORK CITY, NY 2002


"ALL OF THE FOLLOWING STATEMENTS REGARDING CHANGES
THAT OCCURRED IN THE RELIGIOUS LIFE OF WESTERN EUROPE
BETWEEN 1870 AND 1914 ARE TRUE EXCEPT:"
choreography and performance: JONATHAN WEISS - AS HIMSELF
music: THE SEATBELTS


WORLD BEAT
choreography: GINGER BROUSSARD
music: YING-YANG TWINS, KANYE WEST, THEIVERY
COORPORATION, DAVID BANNER, DJ FOOD AND GHETTO
BLASTER
drummer: JONATHAN WEISS
dancers: THE AP POSSE
LAUREN BRUCKER, JESSE CARLSON, DANIELLE KRAKOV, EDRIC
LEGGETT, DANIELLE LEVY, JACKIE LLOYD, JULIA ROMANSKAYA, EDEN
SCHRODER, ASHLEY STEINBERG, ERIN GOLDMAN, DOLLY MULLEN,
EBONEE WALL, GENNETTE DARTY, HANNAH KIM, PONTEA BANAYAN,
SHAYNA GERSON, SUSAN PARK, TODD SHEERIN, BRIANNA SMITH,
BRITTNAY KERSEY, MATT MC EWAN


LISTEN
choreography: JULIA ROMANSKAYA
music: BJORK
dancers: JACKIE LLOYD, LIVIA ROSCIOLI,
JULIA ROMANSKAYA
costume design: JESSICA FLON and VERONIKA SHULMAN
For Anya, Papa, and Dedushka


PORTAL (Part 2)
*See previous film credits
choreography By: JENNIFER JESSUM
music by: STEVIE WONDER
costumes by: ESPERANZA SANTIAGO
performed by: COMPANY '06
*See Film Credits for full listing & special thanks


BOWS
choreography: CHRIS RUTLEDGE & LIZ SROKA
music: M.I.A.
tap soloist: DANIELLE LEVY
drummer: JONATHAN WEISS
soloist: MADDIE WOODS
dancers: THE COMPANY '06


BIOGRAPHIES



RONI KOSMAL-WERNIK ARTISTIC DIRECTOR
has spent the last ten years traveling, studying and teaching dance in various places including Israel, Boston and San Francisco. In 2001-2003, she lived in Jerusalem where she had works performed at both the Jerusalem Festival and the 34th World Zionist Congress. She also taught at the Jerusalem High School for Performing Arts and Mechola Dance Academy. In 2004, Roni founded "Artists for ATZUM" a collective group of local, Los Angeles artists who raise money for Israeli victims of terror. This is Roni's third time working with Dance Company since her graduation in '94. Roni was a Dance Company member and choreographer all four years at Beverly. She is honored to return this year as artistic director and would like to thank Liz, Kerry-Ann and the students for all of their hard work.

LIZ SROKA ASSISTANT ARTISTIC DIRECTOR AND GUEST CHOREOGRAPHER
has worked professionally in film, television, commercials, animation and on stage. She graduated early with honors from NYU Tisch School of the Arts' Experimental Theatre Wing with a BFA in acting. In New York she performed in various venues as both an actor and dancer including Urban Stages, The Ensemble Studio Theatre, Jewish Rep., HERE, Dancespace, University Settlement and P.S.122 as well as creating many original works including her one-woman show Grounds For Tantrum. Since returning to LA she has performed with Blue13 Dance Company at Highways, The Electric Lodge, the Fowler Museum, and Dancescape. She is a current member of Blue 13 Dance Company and Dance Theatre of the World. Most recently Liz worked on MTV's Celebrity
Death Match and Comedy Central's The Showbiz Show with David Spade. She plans to continue creating her own work in a variety of mediums. Liz worked as the Assistant Artistic Director and choreographer of "B" for The Company '05; she was a Company member and choreographer from 1997 to 1999. She is happier than she's ever been and is honored to once again be a part of this program.

KERRY-ANN BROWN PRODUCTION DIRECTOR
a native New Yorker, Kerry-Ann is a proffessional working actress with a life-long love of the performing arts. Kerry-Ann has appeared in numerous film, television, theater, commercial and print projects. She can be seen in the recently released independent feature film The Hollywood Ladder and in several currently and soon to be running National commericals for Chili's Restaurant, Subway, Miller Brewing, AT&T and a National print campaign for HewlettPackard. Most recently Kerry-Ann completed a run at the tearter production of the Dance Real Slow In Jackson at the Phoenix Theatre and as Tess in Cracks in the Pavement at the Pasadena Playhouse. A graduate of Boston College, Kerry-Ann is thrilled to be a part of the BHHS Advance Dance Company for the first time and is honored to work with and call friends the talented directors, Roni and Liz and the amazing student dancers. But most of all she would like to thank the Ladies of Production for their energy, spirirt, and dedication. Production Rocks!

JENNIFER JESSUM GUEST CHOREOGRAPHER
holds a Master of Fine Arts degree from New York University's Tisch School of the Arts where she did work in dance, film and music. Currently a graduate film student at USC school of Cinema & Television, she has choreographed, performed and taught throughout the United States and has won numerous awards and grants as a film maker, choreographer and dancer. She is the Artistic Director of Flying Limbs Inc, Productions and was Co-Founder, Director and Producer for the Denver based Off Center Dance Collective. Her choreography has been produced and commissioned from many venues and companies throughout the US including: Evolving Arts and The Cunningham Studios in NYC, On The Boards and D-9 Dance Collective in Seattle, and The Cleo Parker Robinson Dance Theater in Denver. Commissions include: the national T.V. commercial In The Spirit of Women, The Off Broadway musical It Must Be Love, City University of New York Queens College, The Company at Beverly Hills High School, Between the Bones Dance Company, and the Manchester Dance Festival where she was the recipient of a Choreographic Fellowship and a Meet The Composer joint grant. Her choreography and fight choreography has been featured in numerous independent films and videos and she has been the recipient of three Artist in Residence Fellowships from Sian Ka`an Artistas in Quintana Roo, Mexico. Performing credits include: Elizabeth Streb, Bebe Miller, Robert Battle, Hannah Khan Dance Company, and Maedee Dupres. Jennifer has taught at many fine institutions including: Princeton University, New York University, City University of New York Queens College, Pacific Northwest Ballet, and Manchester Dance Festival. Jennifer was a four year member of The Company from 1982-1986. This year marks her fifth return to The Company as a guest choreographer.

BRADFORD ROBINSON AP POSSE CHOREOGRAPHER
is currently the assistant director of the dance production group at West Los Angeles College. Brad
has created hip-hop choreography for the hip-hop group Karmacy and M.A.D. Degrees Production's instructional dance
videos, "Hip-Hop Habit 4 and 5 and has had his work performed at the Mayan with "Hot Property", a choreography
showcase for the KSA Agency. He has personally danced in "Carnival", a monthly hip-hop based production held at the Key Club, Dance Spectrum at the Ivar Theater, Art Wallah, the Palm Desert Choreography Festival and a number of
shows for Karmacy. In 2001, Brad helped create and was co-director of the hip-hop performance group "Dimes and Dubs
Dance Connection". This is his eighth year choreographing for The Company.

BEN LEVY GUEST CHOREOGRAPHER
Levy's choreography has been presented at The Kennedy Center's Terrace Theater, the American Dance Festival, Zellerbach Playhouse,ODC Theater, the Cowell Theater, Dance Place, the Joyce SoHo, and the Galvin Playhouse. Levy was born and raised in California and gained his BA in Dance and Marketing at the University of California, Berkeley. He has studied and worked with Chris Dolder, Janice Garrett, Joe Goode, Miguel Guiterrez, John Jasperse, Ellie Klopp, Robert Moses, Carol Murota,Martha Myers, Douglas Neilson, Janet Roston, Jeff Slayton, Ellis Wood, and Marni Wood. Levy has been in residence at the Beverly Hills High School, University of Utah, George Washington University, and San
Francisco State University. He has been a company member of the Joe Goode Performance Group and he has toured
regionally and nationally with Lula Washington Dance Theater, Frit and Frat Fuller's KIN Dance Company,and the Bay Area Repertory Dance Company.
photo by:weifred watts

GINGER BROUSSARD AP POSSE CHOREOGRAPHER
Before moving to Los Angeles, Ginger was the owner and director of Company One Dance Studio in Baton Rouge, La, for five years. In 1998 she became the coach and choreographer for the Louisiana State University Tiger Girls, where, in her first year, they won the Universal Dance Association National Championship. Ginger has danced for twenty
five years and has studied ballet, jazz, tap, lyrical, hip hop, and musical theatre, to name a few. She has toured extensively throughout the country and taught master classes for the past ten years throughout the south. Her choreography continues to win national titles for several dance studios in the south. As a versatile and talented choreographer and director, she has staged, directed and produced five Revues in Louisiana. For the past two years, she has been invited to teach downtown at the Music Center, where children and adults have the oppurtunity to explore many forms of dance and the arts. She has choreographed for and performed at Dancescape, a benefit helping arts programs around Los Angeles. Ginger currently teaches jazz and hip hop at Santa Monica Dance Studio.

CHRIS RUTLEDGE CHOREOGRAPHER
was 19 when the world of dance invaded his life. He has always danced freestyle in his own style but tradition of training was introduced,and the porthole was opened. Chris moved to L.A. in 2000 to open the tap show "La Feet" at Disney's California Adventure, where he performed for a year and a half. He has performed both hip hop and tap nationally and internationally with the professional touring group 10foot5. Both styles of dance, for Chris, are about organic movement, unique phrasing, and the ability to hear music. You can find him teaching all around Los Angeles and Orange Co., so bring your tap shoes and an open mind, because as he says, "music and dance are universal."

BENN MENDOZA AERIAL FABRIC CHOREOGRAPHER
is a graduate of The San Francisco School Of Circus Arts, where he specialized in Aerial Fabric and Aerial Hoop as well as studying Aerial Rope, Handbalancing, Contortion, Gymnastics (Artistic and Rhythmic), Voice and Dance. He went on to get his Masters in Aerial Fabric from La Caserne in Montreal and is now currently the director of the aerial arts program at the Josephson Academy of Gymnastics in Culver City (www.jaggym.com) where he is also a coach. Benn started his circus career after 10 years of Dance and Gymnastics left him wanting more. Aerial Acrobatics provided a creative and intellectual outlet while still feeding his need for athletics, originality and individuality. Through his work, Benn has traveled all over the continent performing for national tours (Lollapalooza) and circus troupes (Circo Zero), music videos (TLC), special events (SF MOMA Benefit Gala), private parties (Marciano), clubs (Key Club LA) and festivals (Burning Man). For more information please visit his website at (www.bennmendoza.com)

DARRIN M. WRIGHT CO-CHOREOGRAPHER OF "FALLING AFTER TOO"
a professional dancer in New York City was fortunate enough to learn many great things while
he was at BHHS. Darrin sends his love and thanks all the wonderful teachers who have made him the person he is
today. To all you Beverly kids, enjoy while you have it!


Artistic Director……..............................................................................................……..RONI KOSMAL-WERNIK
Assistant Director………….........................................................……………………...……..……………………LIZ SROKA
Production Director………..................................................…………………………………....……KERRY ANN BROWN
Lighting Designer………........................................................………………………….…..………...…………KEITH ENDO
Technical Director…….......................................................………………..………………….………………ANNIE TERRY
Costume Design………........................................……………………...…......…RONI KOSMAL-WERNIK, LIZ SROKA
JESSICA FLON, VERONIKA SHULMAN
Company Managers………………………………..........………………………JENNA GURNICK, GALI FIRSTENBERG
Assistant Manager ……………………………............................................................…………………..DEANNA FRANK
Company Managers/ Publicity………....................………………………....MICHELLE MILIKAN, LISA SHAPIRO
Costume Managers………………….......................................…………..…JESSICA FLON, VERONIKA SHULMAN
Assistant Costume Manager…..............................................…………………………………………….LAUREN SILBER
Lighting Director and Stage Manager….............…………………………………...…………………..DOREEN SAYEGH
Assistant Lighting Director………………………..............................................………..…….TANNAZ ATIGHEHCHI
ASM/Set Shift Director Stage Right……............................................……………………………….MICHELLE JANG
ASM/Set Shift Director Stage Left….........................................…………………………..……DANIELLE ESPINOZA
Co-Sound Directors………………........................................……………….....…DAVID COHAN, SAM ROSENBLUM
Projectionist…………………………….......................................................……………………………………..BRACHA FISK
Co-Flymasters………………………..............................................……………...….ROBBEN BARQUIST, IAN ICLISOY
Light/Set Shift/Fly Crew….....................................………………......….GABBY AMADO, CRISTINA VERICELLA
DAVID GREENSPOON, KOUROSH BANIHASHEMI, NARI YI
SABRINA MULLEN , SHERI PAN , WILL GEORGES
Music and Sound Editing……....................................…………................…………..…LIZ SROKA, MARY PARKER
Cover and Poster Photography…………....................................……………………......……....AMANDA COPELAND
Poster and Postcard Layout and Design…….....................................…………...…….……………MICKEY KOSMAL
Program Photographer…………………………………...…….............................................………………..JESSICA FLON
Concert Ad Coordinator and Company Mom….....………….........…………………………………………SUE BRUCKER
Parent Committee Chairpersons………………….....................…ROBIN SOMMERSTEIN, CORINNE CARLSON
Program Layout & Design…………………………………………..........................................……....……JACKIE SHARPE

BEVERLY HILLS HIGH SCHOOL ADMINISTRATION
Principal……………...…………….…………………………......................................................……DR. DAN STEPENOSKY
Assistant Principal………………………………………....................................................………………MS. AMY GOLDEN
Assistant Principal……………………………..................................................……………………MR. DAVID HOFFMAN
Assistant Principal…………………….....................................................………………………………….MS. TONI STASER

DISTRICT ADMINISTRATION
Superintendent………....…………................................................…………………………...…...MR. JEFFREY HUBBARD
Assistant Superintendent, Business………….......................................……….....………….MR. MICK MCCLATCHEY
Assistant Superintendent, Educational Services…................................……........……………DR. SUSAN LIBERATI
Assistant Superintendent, Human Resources…..................................……........……………………MR. SAL GUMINA

BOARD OF EDUCATION
President……………………....……………………………………...........................................................………….MYRA LURIE
Vice President……………………………………………........................................................…………………...JOHN MILLAN
Board Member…………………………...................................................………………………....…..MYRA DEMETER, PHD
Board Member…………………….................................................……………………………….........NOOSHIN MESHKATY
Board Member………………….....................................................……………………………...……...………ALISSA ROSTON
Student Representative……..............................................……………………………………......…………........ROXY PIRNIA



Janet Roston/Barry Weiss

DANCE!90210 Home Page