Barry's Dance Review
The Top Ten Reasons I Qualify as a Dance Reviewer

Center Theatre Group/Ahmanson Theatre - Gordon Davidson, Artistic Director/Producer Doolittle's So. California Theatre Assoc. - Jujamcyn Theaters
Tennenbaum & Co., LLC
UCLA Center for the Performing Arts
present
ADVENTURES IN MOTION PICTURES
In association with
Cameron Mackintosh

MATTHEW BOURNE'S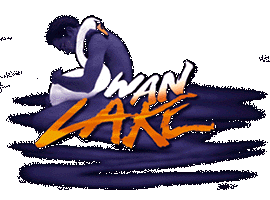 Entering the Ahmanson for this Western Hemisphere premier performance, I wondered if any dance/theater event could live up to the Everest-like expectations created by review quotes like the London Independent's "See it, or live to regret it!"
Yes it can, dance fans, if you have the chance to see it, Just Do It!
This is not your grandma's Swan Lake. Taking place within a not unfamiliar Royal household, the Bourne again storyline describes a desperate psycho-sexual, Oedipal, inter-species quest for love that is thrilling, touching, and occasionally a laugh riot. He weaves this tale while honoring Tchaikovsky's score (Reverentially rendered by a 27 piece orchestra conducted by David Frame) with a mind-boggling vocabulary of classic and thoroughly modern gesture and movement.
The introductory dream sequence, seen through a scrim, has the Young Prince clutching a toy swan in his huge white bed. He is visited by an intimidating swan spectre; jolted awake by this nightmare he receives no comforting from his glamorous, but glacial, consort-collecting Queen (the extraordinary, prima ballerina, Lynn Seymour).
Lez Brotherton designed the remarkable sets and costumes. Both range from starkly beautiful to deliciously cheesy. The lighting of Rick Fisher adds tremendously to the atmosphere. These elements alone are worth the price of admission.
Act I, Scene 1, is an explosion of black & white as maids, valets, and footmen prepare the Prince for his ceremonial rounds with Mum. During this dazzling kaleidoscope of regimental formations and precision tasks, the Young Prince becomes the tragically conflicted adult Prince (the terrific Scott Ambler, displaying great acting ability as well as superb dance skills).
Into his miserably rarefied life is thrust a red-dressed Fergie-like siren. He's enamored; Mum is aghast. At the Opera House, they view a hilarious parody of a classical ballet. My dilemma was trying to simultaneously watch the extravagantly winged maidens duel the evil forest trolls and/or the tumult in the royal box caused by the rowdy, popcorn-munching Girlfriend (the excellent Emily Piercy). It soon became even more difficult to see due to my tears of laughter.
The next spectacular set-piece takes place in a seedy disco; a garish collage of tacky Carnaby St. fashions and stylized dance club moves of the 60s and 70s. In despair, the Prince staggers from this scene to a lakeside where a wave of swans arrive in the moonlight. Forget those delicate tutu-ed, toe-shoed, birds. Portrayed by buff, bare-chested, buzz-cut males in knee-length feathers; these swans are strong, swift, and graceful. They can be romantic, loving and protective or viciously violent.
After the introduction of this audacious conceit, Bourne demonstrates his strengths as a choreographer: Brilliant development of movement phrases; clever use of group; and constantly fascinating flow on stage. Much more than just a new take on the old "Swan Lake," this production is rich with breathtaking passages of pure dance.
Soon, those swept-back arms with splayed fingers become wings and the fable takes flight. Along with variations of swooping and preening is a humorous section devoted to the traditional four cygnets, all gangly and newly fledged.
The depressed Prince is gradually uplifted and entranced by a protective seductive Swan (The astounding Adam Cooper). Their pas de deux is an enchanting exercise in courtship and Cooper's solo is a show stopper.
While the men, especially the sexy swans, get the obvious attention, it's the female dancers who provide the requisite counterpoint. The company as a whole performs the nonstop demanding choreography with unflagging accuracy and maximum emotional projection.
The second act is driven to its climax by the appearance of black swan in the form of a leather-clad, whip-toting Stranger (again, the riveting Adam Cooper), a sinister punk-hunk who appears at the Royal Ball; systematically seducing the ambassadors' wives while homing in on both the Queen and the Prince. Inevitably, passions explode, there is death and madness. A last glimpse of hope is dashed by a violent peckfest resulting in murder most fowl.
The bittersweet coda brings satisfying closure.
Mere recitation of the storyline does not do this work justice. This is artistic achievement of the highest level.
The de rigeur standing ovation was the longest, most genuinely enthusiastic in memory. After many curtain calls, a visibly gratified Matthew Bourne took a bow (my hard-to-please choreographer wife, had tears in her eyes) and graciously brought out other members of his production team.
Thank you Mr. Bourne & Co.
Welcome to L.A.!
---
Selected Eavesdroppings: "What a great butt in those leather pants!" "That dog was a Welsh Corghi, wasn't it?" "But it was so sad." "I think one of the girls' chest was sunburned." "The moral of the story is: Don't mix the species" "Do, do do, do do, do, do do do do do..."
---
Star Sightings: David Hockney, Michael Kidd, David Hyde Pierce, Patricia Wettig
---
FYI: The ADVENTURES IN MOTION PICTURES web page is not to be missed. It has a Swan-opsis of the story and other cool features.

Interview with Matthew Bourne by Kristin Hohenadel

Interview with Adam Cooper by Jennifer Fisher

L.A. Times Review by Lewis Segal

Ahmanson Theatre, The Music Center - Los Angeles, 5/25-6/15
$15-$45 through April 30, $15-$60 afterward.
---
© 1997 by B. L. Weiss


Top of Page

Barry@dance90210.com
DANCE!90210 HOME PAGE