Welcome to JANET ROSTON'S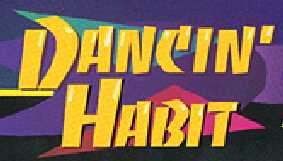 Expanded Catalog!
HOT HIP-HOP & JAZZ DVDs!
All DVDs ordered through PayPal are only $15 each!

Simply enter your Name/Address and Item(s)
Send payments to: paypal@dance90210.com


Free Shipping included to U.S. or Canada!
International Orders: Add $US 10.

HOW TO CREATE AWARD-WINNING
COMPETITION CHOREOGRAPHY

Why do some dances win award after award at competitions? What makes particular choreography stand out? How can you bring out the best in each performer? Terry Schulke, award-winning choreographer, dance teacher, and studio owner has the answers. Created specifically for competitions, Terry presents eight steps that will aid you in creating dances that win!

To excel in competition the right music selection, dance style, technique level, and compositional elements are critical. Terry clearly presents methods to break down music, build excitement level, and show your dancers to their best advantage. Perfect for solos, trios and group choreography. Great for dancers of all ages. Get the winning edge!


DVD $15 Item Code: TSC


TURNS, LEAPS & TRICKS 2
A terrific sequel to the acclaimed BEST SELLER!

Master teacher Terry Schulke returns with more secrets to successful leaps, turns and tricks that will enable your dancers to produce:
MULTIPLE TURNS FROM BASIC TO COMPLEX: Piqués, Chainés, Pirouette Variations, Compass Turns, Combination Turns.
PICTURE-PERFECT LEAPS: Stag Leaps, Pas de Chat Variations, Stationary Leaps, Combined Leap Sequences.
COMPLEX TRICKS: Integrating Pencils, Floats, Illusions, and more.
Plus: PROGRESSIONS! Terry puts all the material together into dynamic across-the-floor sequences that will challenge and excite your dancers.

DVD $15 Item Code: TLT2


TURNS, LEAPS & TRICKS 1
TEACHERS ACROSS THE COUNTRY HAVE ASKED FOR IT!
Master teacher Terry Schulke presents her systematic, step-by-step, hands-on method to outstanding leaps and turns. Terry's students consistently win multiple 1st Place Awards at National Finals competitions.
Using her concepts propel your dancers into strong multiple turns and high, technique-perfect leaps.
Plus TRICKS! Correct technique for moves that add pizzazz to your choreography. Illusions, Floats, Pencils, Inverted Leaps and much more. Terry has taught this material nationally at Master Workshops. Learn from her and take your dancers to a new level.

DVD $15 Item Code: TLT1


HIP-HOP YOU DON'T STOP!

Take a Hop-Hop class with Patrick "Pat - y - o" Otero and Fenton "F Troop" Fulgham. A little looser than other hip-hop videos, these teachers use humor and up-beat energy to teach four fun, short , and not-too-difficult routines. The teachers repeat each sequence multiple times enabling students in class to follow-along. Pointers on performing with a hip-hop style are included. At the end of the video the routines are put together into one long choreographed sequence with formations. 80 minutes.

$15 DVD Item Code: YDS




GROOVIN' WITH THE GROOVALOOS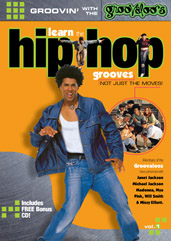 The Groovaloos are a group of outstanding street dancers who'll share their funky style with you. As charismatic host, Bradley "Shooz" Rapier says, "It's not about the move, it's about the groove." These excellent videos ingeniously present elements of street dance in short combos that combine into a final routine. Bradley and dancers show how you can give each move your own personal style. Great for all dance levels.

DVD One: Warm-up with Up-Beat. Locking; Leo Walk, Points, Wrist Rolls, The Lock, Apache, Charley Rock and B-Boyin
'.
$15 Item Code: G1

DVD Two: Out On the Street; Warm-up with Down-Beat. B-Boyin'; Crossing Step, Rock Down. Poppin'; The Hit, Double Pop, Single Pop,
Waves, Glides, Twist-O-Flex.


DANCE!90210 Home Page



We are committed to protecting your privacy. The information we receive is the minimum needed to process your orders and to provide you with a quick, and convenient shopping experience: your name, email address, and shipping address. Through our eBay Store & PayPal, trusted by millions of satisfied customers, we make your shopping experience easy and secure.

We do not sell, trade, or rent your personal information to anyone.

Sincerely,
Janet Roston
M.A.D. Degrees Productions